UM-Flint Social Work Town Hall Addresses Flint Water Crisis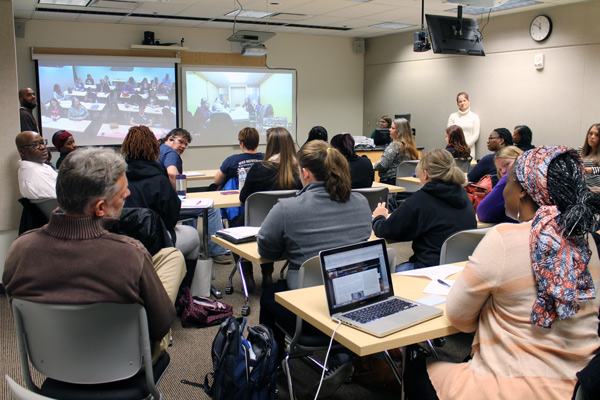 Social work students from the University of Michigan-Flint and Touro College in New York convened Friday during a second virtual town hall meeting to discuss the Flint water crisis and solutions through a social work lens.
By the end of the discussion, participants from Touro College pledged to organize a bottled water boycott in order to encourage people from cities and schools located outside of Flint to join them and help put the spotlight back on the people of Flint who continue to struggle from the water crisis. Their goal is to see that the infrastructure in Flint is fixed as soon as possible and to make it a higher priority for those able to do something about it.
At the town hall, students who live in Flint expressed to their Touro College friends that the water crisis is still a major problem, even though it is no longer the center of attention in the national media, and that residents are using bottled water every day as a necessity. Some people lack education on how to properly use water filters, and many choose not to drink filtered water because they don't trust the source or their government that brought the city to this point.
UM-Flint social work instructor Todd Womack and field education program coordinator Kasie White guided the talk. Both live in Flint. "This conversation isn't popular anymore," White said. "How do we as social workers pick up this social justice issue?"
Social work chair Otrude Moyo pointed out that there are significant economic disparities between those directly affected by the water crisis and those who have the ability to fix it.
The group also discussed the value of identifying companies that are profiting from the tragedy, addressing changes in policy and funding, getting support from the United Nations' Water Sustainability Committee, and using social media outlets to inform a global audience and to spread the word of a future water bottle boycott outside of Flint. "We can't normalize this crisis," Womack said.
Contact University Communications & Marketing with comments, questions, or story ideas.