Flint Celebrates Opening of Cummings Early Childhood Center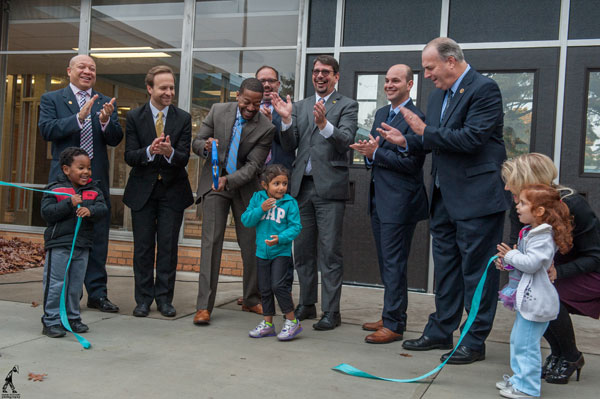 More than 200 young students will gain new skills through exploration, learning, and creative play as Cummings Great Expectations, An Early Childhood Center, officially opens its doors to provide much-needed early education services for children across Flint.
Cummings will identify and address the educational, behavioral and health needs of Flint children ages 
2 months to 5 years, with a particular focus on those who were exposed to lead as a result of the city's water crisis. The center also will serve as a resource hub for parents, families and other home- and center-based childcare providers.
Flint Community Schools, the University of Michigan-Flint, and the Genesee Intermediate School District are partnering to provide space, programming and fiscal oversight of Cummings. The University of Michigan-Flint, which operates a nationally accredited early childhood education center on its campus, is providing the same program and services at Cummings. The state of Michigan, foundations and other charitable organizations are providing financial support.
According to Bilal Tawwab, superintendent of Flint Community Schools, all of these entities are working together to increase access to early childhood education in Flint. Research shows high-quality early childhood education can mitigate the effects of lead exposure, which can cause developmental delays and behavioral challenges in young children.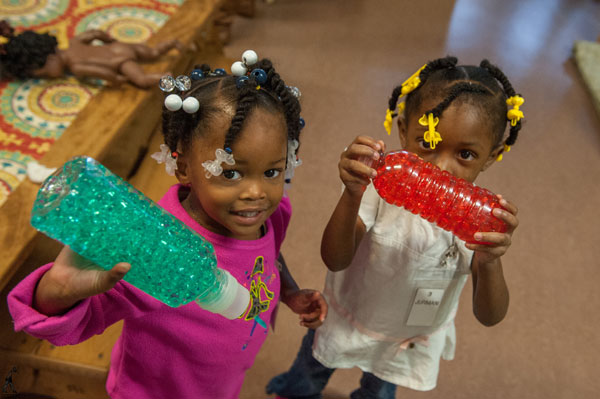 "This program will nurture children during the critical first five years, helping them to achieve and thrive," said Tawwab. "The more kids we can get into early childhood education, the better prepared they'll be to learn, succeed and contribute to the growth of our community."
"We are committed to providing resources to help the people of Flint recover from the water crisis, and early childhood education is one of the best ways to do that. The reopening of Cummings is a great example of collaboration between local, state and community partners," said Lt. Gov. Brian Calley, who took part in a ribbon-cutting today to celebrate the center's opening.
Other participants included: Tawwab; members of the Flint Community Schools' Board of Education; U.S. Congressman Dan Kildee; State Sen. Jim Ananich; Bob Barnett, dean of the School of Education and Human Services at the University of Michigan-Flint; and Ridgway White, president of the Charles Stewart Mott Foundation.
The state of Michigan is providing $2.2 million this year to cover the costs of student attendance. The Charles Stewart Mott Foundation and the Pritzker Children's Initiative made grants of $1 million and $500,000, respectively, to renovate the Cummings Community School building to accommodate the needs of younger children. Additional support is being provided by the W.K. Kellogg Foundation, Community Foundation of Greater Flint, Carnegie Foundation, United Way of Genesee County, Isabel Foundation, Save the Children, and Rotary Club of Flint Charitable Foundation.
"This project is an example of a community coming together," said Dr. Susan E. Borrego, chancellor of the University of Michigan-Flint. "UM-Flint is proud to be a part of it by identifying interventions that best help children and lending our expertise in early childhood education to operate Great Expectations. We are appreciative of the many funders and partners who have joined together to deliver this unprecedented investment in our children and our community."
"All children in Flint deserve to have high-quality, year-round early childhood education," said White. "This center is an important step in the right direction. It's also a great example of what we can achieve when we work together on behalf of children, and the organizations and individuals here today are going to continue to do that."
For additional information on early childhood education programs, services and registration, Flint families are encouraged to call Flint Community Schools at 810-240-0874.
Contact University Communications & Marketing with comments, questions, or story ideas.