Q & A: Associate VC & Dean of Students Julie Ann Snyder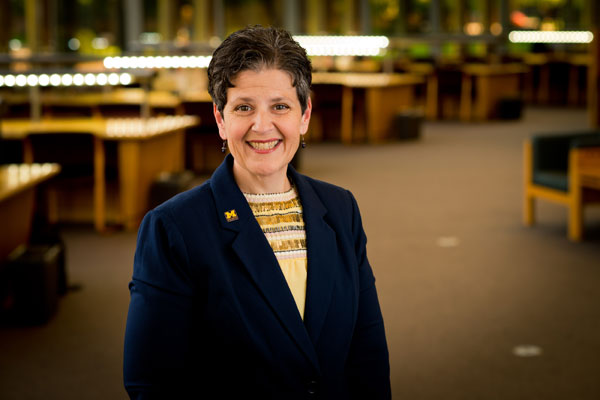 Julie Ann Snyder, Associate Vice Chancellor & Dean of Students at UM-Flint, started at the University this summer. In this Q & A with University Relations, Dr. Snyder shares her initial impressions and initiatives.
What have been your impressions of the student community at UM-Flint?
I have been impressed with the students at UM-Flint and their work ethic and passion. They are a group of committed individuals with high goals and aspirations. They have been thoughtful and willing to ask questions to help improve student life at UM-Flint. They demonstrate care and compassion for the community and have provided important and relevant feedback about the work we do.
What initiatives or new programs under your leadership are being developed or planned for this academic year?
• Currently we have a group of students looking at ways to increase campus pride.
• We have begun discussions about expanding knowledge about UM-Flint Club Sports.
• We are implementing a new Inclusive Leadership Certificate in SIL to help increase student competency in working with diverse groups and teams.
• We are investigating creating some learning communities in Housing and Residential Life.
• We are investigating amenity options for UCEN and proposing some changes to the building.
Students lead very busy lives. How valuable is it for students to be involved in the university community?
It is extremely valuable for students to be involved in the university community. Research shows that students who are involved have higher grade point averages and graduation rates. Furthermore, employers consistently state that they prefer to hire people who have experience working with diverse groups and previous leadership roles. Students can learn these vital career skills through their campus involvement.
What would you like incoming students to know about the university?
The University of Michigan-Flint is a four-year campus with a personal touch. Faculty and staff genuinely care about students and work hard to help students be successful. We are a campus that values being civically engaged and having a positive impact on the community.
What drew you to UM-Flint? What would you like the community to know about yourself?
I am a native Michigander and have returned home after 20 years. I was drawn to the position at UM-Flint because of the students and the trajectory of the university. I am excited by the difficult conversations happening across campus about change, and how we take UM-Flint into the future. I am amazed by the tenacity and grit of UM-Flint students.
I am grateful for the hospitality and kindness of so many faculty and staff who have helped me transition into the campus. I am the proud parent of two wonderful children, Elijah (16) and Liliana (7), and a very grateful wife because of my supportive spouse and life partner! As a person and educator I am guided by the ideals of servant leadership and incorporate these characteristics through a social justice lens. My hope is to simply leave the world a better place and help others know and understand one another.
Contact University Communications & Marketing with comments, questions, or story ideas.