UM-Flint Dual Enrollment Preps Students for College Success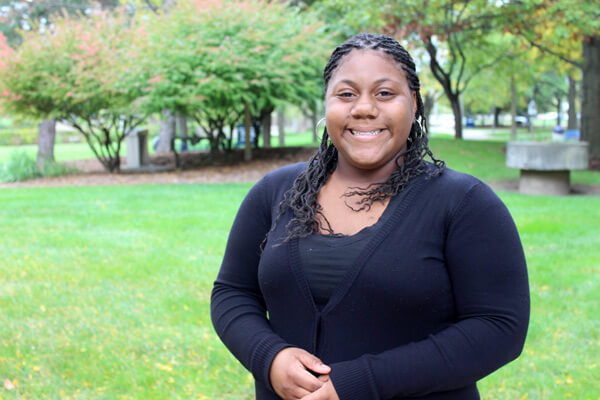 Fresh out of high school at Flint Northwestern, Y'Sheki Davis began Fall 2016 at the University of Michigan-Flint with fewer jitters than her fellow freshman classmates.
When she headed to her first class as a social work major, Y'Sheki was already familiar with the locations of the buildings and various student services offered on campus, and she had a good understanding of what her professors would likely expect of her in class.
That's because her transition from high school to college life was eased along by taking four courses in the university's Dual Enrollment Educational Partnership (DEEP) Program during her senior year of high school. Her courses included Africana studies, two English courses, and anthropology.
Currently about 600 students are enrolled in the DEEP Program, which was developed through UM-Flint partnerships with several area school districts, and allows qualified high school students to earn up to 24 college credits while completing high school. Those credits are recorded on their UM-Flint official transcripts, counting toward a four-year degree program at the university, or may be potentially transferred to another institution.
According to Bob Barnett, Dean of the School of Education and Human Services, the DEEP partnerships provide additional benefits: "The work we engage in with our DEEP high school partners allows us to establish relationships with students before they even get to campus as university students. We are better able to advise and counsel them which, as the research on student success points out, leads to higher retention and graduation rates. It's a real win for UM-Flint students."
A Step Toward Personal Growth & Responsibility
A Texas native, Y'Sheki lived in Illinois before coming to Flint with her family in 2014. Now she works at McDonald's, rents her own place, and is committed to a full class load at UM-Flint to pursue her dream of becoming a social worker who helps families and children.
"Being involved in the program in high school actually gave me a little step into college," Y'Sheki said. "It helped me to better know what I was getting myself into and what to expect, and also to learn where everything is on campus—and I have more flexibility in my school schedule now."
The DEEP Program afforded her the opportunity to take a campus tour, utilize tutoring services on campus, practice academic research and citation skills, and work collaboratively with her peers to give and receive feedback on writing assignments. Taking a few college courses while in high school helped her to plan her academic path in social work and to define her career goal to work in child welfare.
It also helped her to manage her tuition costs. "Dual enrollment provides significant savings to students and their families," explained Crystal Cordes, UM-Flint K-12 Partnerships' Interim Program Manager. "The university's reduced dual enrollment tuition rate coupled with funding from the high school results in a 75% tuition discount for enrolled high school students."
The dual enrollment experience helped Y'Sheki to grow personally and to work through challenges. "I'm more responsible and have more confidence to ask questions," Y'Sheki said. "In college, there's no one here pushing you to finish an assignment. It's on yourself. In the dual enrollment classes, I had a lot of people at high school and the university ready to help me out with any assistance I needed."
For more information about the DEEP Program and partnerships, please visit: www.umflint.edu/k12/deep-programs
Contact University Communications & Marketing with comments, questions, or story ideas.