Tree Dedication Honors Mott Family and UM-Flint's First Class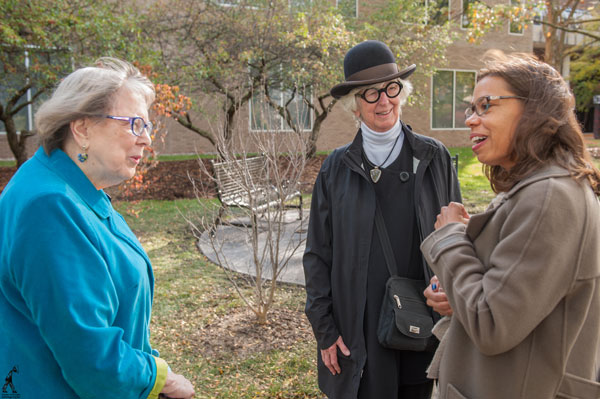 The University of Michigan-Flint has unveiled a new outdoor seating area to honor its traditions and celebrate its future, as part of its 60th Anniversary celebrations.
The area, between the University Center and Flint River, includes two benches in a new seating area, surrounded by four trees. One of the benches honors the Mott family and their many contributions to the university, while the other celebrates the initial graduating class of 1958. The benches, which look out at the river, are surrounded by two Jane magnolia trees, and two Kousa Dogwood trees.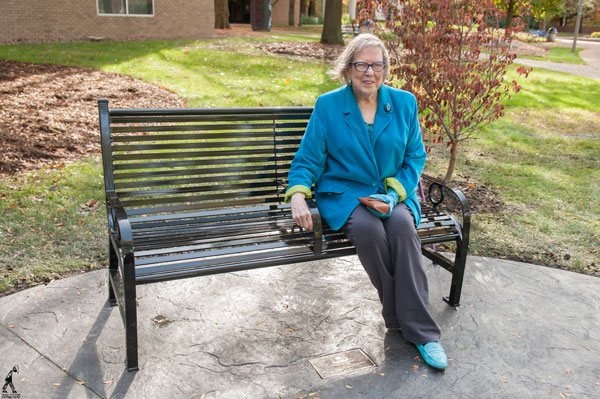 The university held a small dedication ceremony October 28. Maryanne Mott, daughter of Ruth and C.S. Mott, attended the ceremony. She is the chair of the Ruth Mott Foundation board of trustees, and a trustee of the Charles Stewart Mott Foundation.
"I love the design. It is very embracing. I noted that the trees planted are both spring flowering and fall colors. I think my parents would have appreciated that because they were very interested in all natural beauty. I think they would have loved seeing this and would have been quite honored by this dedication," she said.
Audrey Snipes Lattie, part of the graduating class of 1958, attended the ceremony.
"It's beautiful. I think it's so peaceful and serene," she said.
Contact University Communications & Marketing with comments, questions, or story ideas.