UM-Flint Students Attend State Social Work Event in Lansing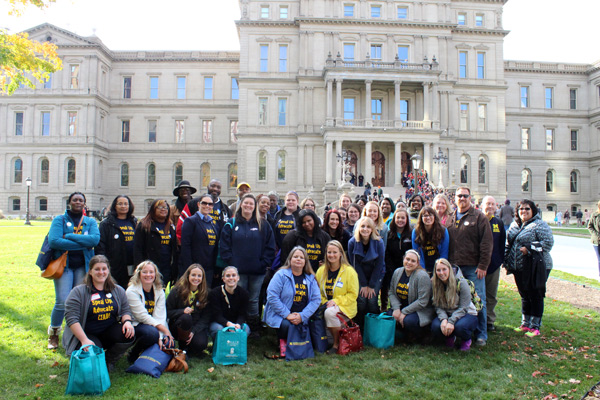 University of Michigan-Flint social work students and faculty attended the Legislative Education & Advocacy Day (LEAD) in Lansing Tuesday and came away fired up to seek more ways to apply their knowledge and skills toward real social change.
The annual event hosted by the Michigan Chapter of the National Association of Social Workers drew more than 800 participants, mainly students from across the state, to join in dynamic seminars about current issues impacting the future and direction of the social work profession.
Common topics threading through the discussions included the importance of activism on the part of social workers in the political process, the need to press for criminal justice reform to expose root problems of recidivism and heighten law enforcement training, and exploration of complex issues in race relations, immigration, and Islamophobia.
"LEAD Day pumps them up and gives them that energy to say this is their commitment to social work," said UM-Flint Social Work chair Otrude Moyo of the students who attended. "Attending LEAD makes them see they can do more than counseling and therapy. It encourages them to see themselves as active citizens first, then as social workers where they can become involved in community organizing."
Moyo commented that the social work field is beginning to move from a historically psychological and fragmented framework to one that examines how social concerns intersect and significantly affect community building and policy work. "We are beginning to see problems in a community perspective and we're moving away from fractured experiences that are limited to identities," she said.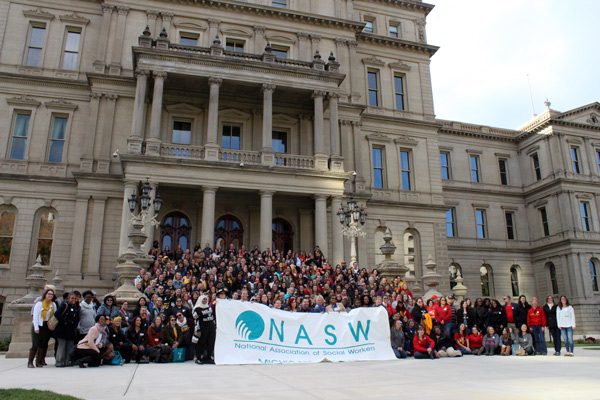 With advocacy at the heart of the event, students commented that they gained a better perspective of how social workers can do more to advocate for social justice and reform in the criminal justice system with the common goal of helping individuals while strengthening communities. As students and not yet professionals in the field, they also felt that they could do more to push for impactful change within their communities.
Derrick Jackson, MSW and law enforcement officer with the Washtenaw County Sheriff's Office gave an engaging afternoon presentation about how social workers can support law enforcement agencies and work with them to provide communication training and specific tools that help officers do their jobs more effectively, ultimately reducing crime rates and providing more options for residents struggling with substance abuse and mental health issues.
"This has really opened my eyes to what's going on in the world that relates to social work today, like Black Lives Matter and the stereotypes out there about black men," said UM-Flint social work student Frederick Fields, who also enjoyed Jackson's presentation. "All of the speakers had great info to share. I think it's very positive to have social workers working alongside law enforcement officers."
UM-Flint social work student Brittney Spence said the LEAD event inspired her to study the mental health arena relating to social work and ways to help individuals gain access to mental health treatment. "I learned today that my passion is in the mental health area," she said. "I kind of knew that before, but now I am sure."
Contact University Communications & Marketing with comments, questions, or story ideas.