UM-Flint Makes Princeton Review's Top Business School List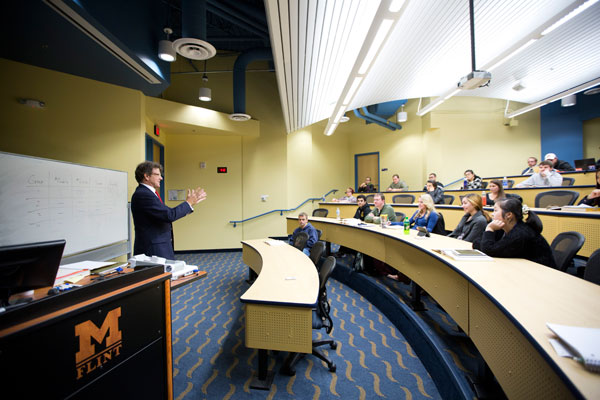 The University of Michigan-Flint's School of Management ranked as one of the Best Business Schools in the Midwest for 2017.
The School of Management was selected along with 294 other business schools by the Princeton Review.
"We are very pleased to once again be recognized by The Princeton Review as one of the Best Business Schools in their 2017 publication. The methodology consists of The Princeton Review conducting a nationwide survey of enrolled business students," said Scott D. Johnson, Dean of the School of Management. "This is a nice confirmation for us that our students perceive our offerings to be high quality. It is an important external validation for our excellent faculty and staff."
The Princeton Review ranks each school based on eleven categories; each category focuses on a different aspect of the school's learning environment. The ranking categories are the toughest to get into: best classroom experience, best career prospective, best professors, most competitive students, most family friendly, best campus environment, best green MBA, best administered, greatest opportunity for minority students, and greatest opportunity for women. The categories are based off of questions that could be asked on a campus tour and are meant to inform students interested in pursuing a graduate degree. Each category is based on overall school rankings that range from Admissions Selectivity Rating to Academic Experience Rating.
Every school has to have, at minimum, one rating on PrincetonReview.com to be selected in the top 294 Business Schools. Up to five ratings can be given per school. UM-Flint's School of Management received a selectivity rating of 87 out of 90.
Out of the 25,000 student surveys, the School of Management's campus life was described as a "very friendly campus environment" and that their peers are "highly experienced and educated." The diversity in School of Management's graduate program was also an important topic of discussion. When asked about the strengths of their fellow peers students said, "They have different academic backgrounds, work environments, home settings, ages, genders, and [ethnicities]."
Along with students' comments on diversity, the recent boost of technology within the School of Management struck a positive note with current students. One student said, "there are many high tech study rooms, and a state-of-the-art computer lab, research center, and student organization offices." These resources provide an advantageous learning environment for business students at the University of Michigan-Flint.
Contact University Communications & Marketing with comments, questions, or story ideas.