Shelby Coleman Takes the Lead in UM-Flint's "Next to Normal"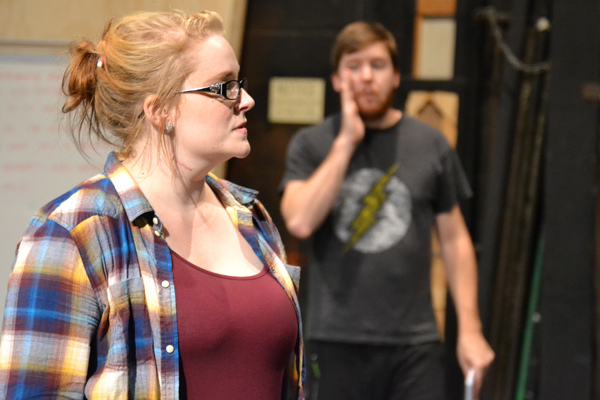 Shelby Coleman of Swartz Creek, MI, is a senior in the UM-Flint Theatre & Dance Department. She is playing the lead role of Diana in Next to Normal. The production, an award-winning rock musical, tells the story of a woman's struggle with bipolar disorder and its effect on those around her.
The show will run October 28-30 and November 4-6 in the UM-Flint Theatre, located at 327 E. Kearsley Street, Flint, MI. Friday and Saturday shows begin at 7:30 p.m.; Sunday shows are at 2:00 p.m.
Connecting with the Script
"When I'm going to audition for a production, the first thing I do is read the play. I take notes and write ideas and concepts along with my first impressions as I go, or immediately following. This way, the ideas stay fresh and I can reflect on them later," said Coleman. "I utilized this routine in preparation for Next to Normal, but I also read several books relating to this specific topic. An Unquiet Mind by Kay Jamison was one of those books, and probably the one that influenced me the most. In addition to reading, I spent some time with a few friends of mine that suffer from mental illness. I wanted to get their perspectives on the musical, and it turned out to be extremely beneficial. I was able to research each type of medication that is referenced in the musical, find out what the medication looks like, feels like in my hand, and the side effects that they have. I made it a point to use these tools to find facts that could help me, instead of forming a basis for this character on my own expectations and speculation."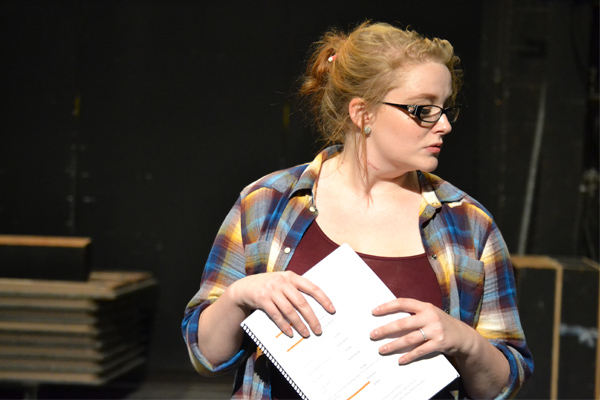 "I couldn't read the play in one sitting," recalled Coleman. "I had to take breaks. After a few scenes, I needed to put it down to process the way I was responding. Each line, each lyric, would hit me in such an absurdly profound way that it almost seemed unreal. The first line in the play is 'What are you doing up? It's three-thirty.' How often have we done that? Stayed awake for whatever reason? Bad dreams, restless leg syndrome, the cat won't stop meowing and it's keeping us awake? Immediately I related. Immediately I was friends with the characters in the play. Even though they aren't real—they related to me, and I related to them."
"And I hadn't even listened to the music yet! When I got around to that, it floored me," Coleman continued. "I don't have the right words in my vocabulary to express the way this music exploded into my life. 'Why do we sing? We sing because we cannot speak anymore.' William Irwin [of UM-Flint Theatre] was the first professor to tell me that, and I'm thankful it resonates in me now. I wish I could describe my first impressions of the music…but honestly I think the best way I can share that with you is if you come to see the production. You'll understand."
Playing Diana
"Diana is a challenge. At this point in my career, I've never taken on a role this complex," noted Coleman. "As an individual that suffers from aggressive bipolar depression… that is something specific she and I have in common. Although hers is nothing like mine (each type of depression is different in my opinion), she resonates with me in that way specifically. Normally in musicals, I'm the 'comedic relief.' In this case, I'm the polar opposite. Diana seems to have some sharp, witty quips that are charming and funny, but otherwise, the show focuses specifically on her suffering. I think this type of role is stretching me in ways I've never been stretched at the University of Michigan-Flint. The character is so unique, yet relatable in more ways than one would care to admit."
Under the direction of UM-Flint Theatre's Stephanie Dean, Coleman and the rest of the cast have been carefully navigating their roles, being conscious of the emotional toll the play's content can take.
"So far, the most difficult part of playing this role has been protecting myself. What I mean by that is that I need to keep myself from diving so deep that I can't 'get out.' It is imperative for me to remain healthy mentally and physically," said Coleman. "To give this character a truthful treatment, I need to dig deeper than I've ever had to dig before."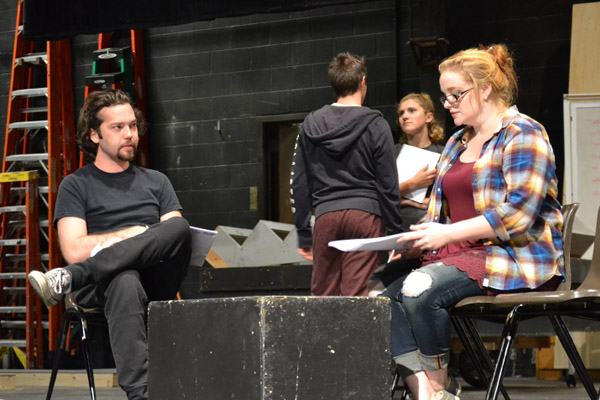 The UM-Flint Theatre and Dance department looks to challenge and grow their students through each role of a stage production. The effects of each production will last long beyond the final curtain call.
Said Coleman, "I hope that through this process, I will learn to free myself from judgement. In a society that thrives on constant communication, I believe we're all hyper-aware of the opinions of others. Now, that is not to say we all take stock into the opinions of others (I certainly don't). I want to free myself from my own judgement. I treat myself abhorrently. I'm harsh on myself to a fault, and I know it only harms me. I want to give myself a little more quarter, and I think this type of role forces me to do that."
Being a Part of UM-Flint Theatre
"I find that the relationships I develop while partnering with my cast mates are so valuable and irreplaceable. We laugh together, we cry together, we support one another, and when the show is over, we compete for roles like there's no tomorrow," said Coleman. "I think the joy we all find in telling stories is my favorite slice of the pie. We do something we love because we have fun doing it, right? I have more fun doing theatre than I have doing quite literally anything else. Nothing gives me more joy, nothing makes me happier. I am fulfilled when an audience leaves the theatre having experienced some kind of authentic response. I love to be a part of something that reminds us all we are united in our humanity. If it provokes laughter, tears, gasps, wide-eyes, conversation and thought, or simple, straight-up joy, I've done my job."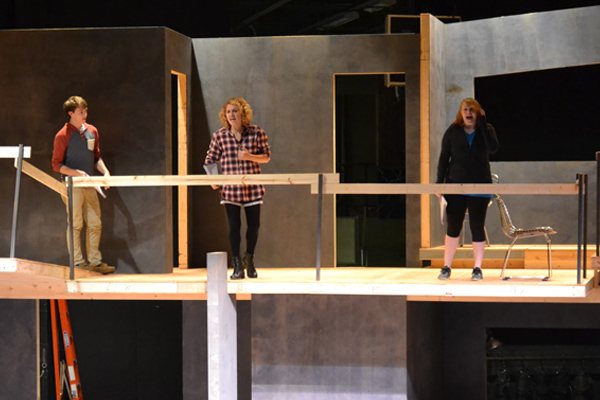 "I love being a part of the Theatre Department at the University of Michigan-Flint for many reasons. It's difficult for me to put into words just how precious this place is to me," continued Coleman. "I was welcomed into the BFA program after a challenging audition with open arms. I've been given an immense amount of special attention (as all the students here receive), and my professors have invested their time, energy, and love in me. I truly feel valued as a company member here, and as a human. I love the people here with all my heart. There is a sense of community in Flint that is unlike anywhere else . . . We are incredibly strong, and we bounce back whenever we're knocked down. I've been made into an unbreakable soldier of the human condition, and I have the University of Michigan Flint's Department of Theatre and Dance to thank for that."
---
For more information on showtimes, ticket sales, and performances, visit umflint.edu/theatredance/season-information or call (810) 237-6522.
During the October 28-30 and November 4-6 weekends, performances will be held Friday and Saturday nights at 7:30 p.m. and Sundays at 2:00 p.m. Tickets may be purchased online or at the UM-Flint Theatre box office (please arrive early if purchasing tickets at the door). The Sunday, November 6, performance will feature a talk-back session with the cast, crew, and director. All are invited to attend.
Contact University Communications & Marketing with comments, questions, or story ideas.