Inaugural Victors Reunion Celebrates UM-Flint's First Grads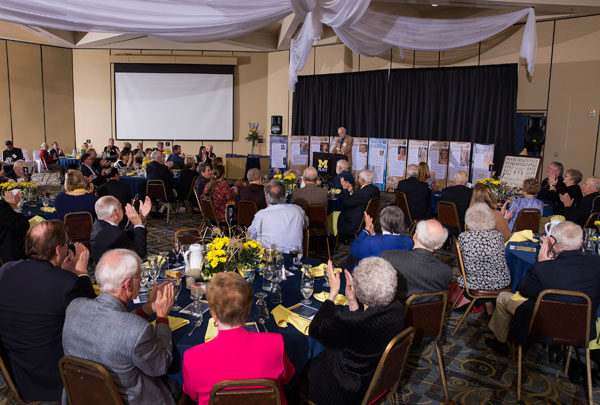 Ruth Wagner-Belisle studied the framed photograph of the University of Michigan-Flint's first graduating class in 1958, when the school was known as Flint Senior College.
She found herself on the bottom row of the image, then quickly started pointing out peers.
"I didn't think I'd recognize anyone, but seeing this, it's all coming back to me," Wagner-Belisle said.
Wagner-Belisle then turned and joined her peers in real time for the UM-Flint Victors Reunion at the Riverfront Center on Friday, October 21.
The university celebrated those who graduated from the classes of 1958 through 1966 with a reunion ceremony connected to the broader celebration of UM-Flint's 60th Anniversary.
"You were the pioneers and the trailblazers," said UM-Flint Chancellor Susan E. Borrego.
Nearly 100 people attended, with roughly one third of them alumni from those years. There were also six faculty emeritus in attendance.
"Going forward, we will host the Victors Reunion annually and it is for anyone graduating 50 years ago or longer," said Mary Jo Sekelsky, the university's executive director for Alumni Relations.
The alumni were the first to be inducted into the Sara C. Miles Case Society at the ceremony. Case, in an Ann Arbor resident, in an 1837 letter to family, penned the first recorded mention of a University of Michigan-Flint campus, when she wrote "A branch of the Michigan University at Ann Arbor is to be established in Flint at some future day." Each year, those who attend the ceremony and graduated at least 50 years ago will be inducted.
Wagner-Belisle was one of those inducted. She spent her first three years on the Ann Arbor campus and then transferred to the new site in Flint shortly after getting married. She commuted from Saginaw when Dort Highway was just two lanes. Friday, she came back to Flint to celebrate the university's history.
"I'm very happy and excited to be part of this," she said.
Dr. Donald DeGraaf, a founding faculty member in physics who taught at the university until 1990, was the event's keynote speaker.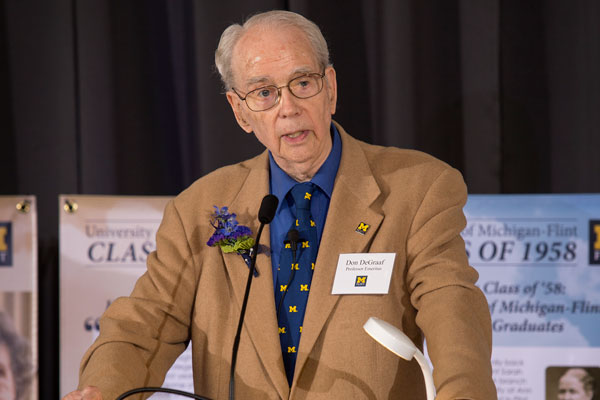 "I think it's wonderful," DeGraaf said about the university's development of the reunion. "I think it's terrific."
Alumni Relations manager Brent Nickola said DeGraaf was a main draw for many alumni who attended.
Mary Eaton counted herself in that group. She graduated from UM-Flint in 1961 before a long career as a first grade teacher. DeGraaf was one of her instructors, and she liked how he merged thoughts on religion and science. Her daughter and son also had him as a teacher.
Eaton applauded the plan to hold the reunion annually, and said it would only foster more alumni unity and spirit.
At the reunion, Alumni Relations also unveiled their Class of 1958 project, which included interviews and stories from several members of that first class. The project, which received funding via a University of Michigan Bicentennial grant, was a collaboration between Alumni Relations and the Genesee Historical Collections Center, a unit of the Frances Willson Thompson Library.
The stories and interviews are online, and large banners have been created with photos of the alumni featured in the project. These will be displayed across campus at different times. Banners will also be displayed on the Ann Arbor campus for the University of Michigan Bicentennial next year.
Anastasia Dula, senior majoring in biology, conducted the interviews this summer. The work sparked further interest from the alumni in the latest happenings at the university, she said, and left a personal impact on her.
"It made me a lot more interested in the history of my own school," she said.
Contact University Communications & Marketing with comments, questions, or story ideas.