UM-Flint Alumna: Geriatric Social Work is Rewarding, Needed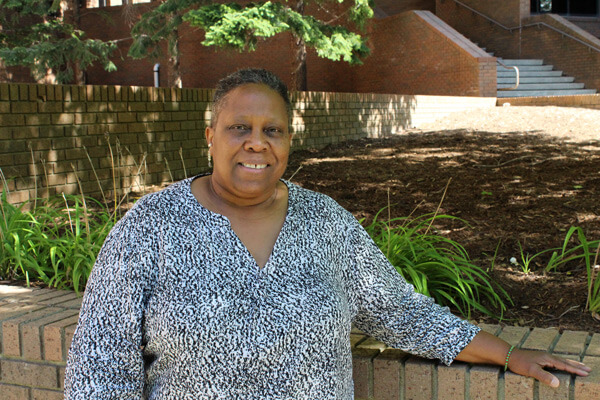 A 2015 graduate of the University of Michigan-Flint Bachelor of Social Work (BSW) Program, Debra McGee has a big heart for helping older people.
She was fortunate enough as a young girl to have caring relationships with her senior neighbors and family members, something she has noticed is not as prevalent with many youth today.
McGee's passion for helping the older generation has inspired her to work, intern, and volunteer in places such as the Flushing Area Senior Center, McFarlan Residence-Court Street Commons in Flint, Home & Hospice Advantage, and Heart to Heart Hospice. She also interned at Reverence Hospice in Grand Blanc, gaining valuable knowledge from the experience.
"It was awesome because my supervisors were graduates of the UM-Flint and Ann Arbor Social Work programs," said McGee, who also received the prestigious Maize and Blue Award. "When I was a student in the University of Michigan-Flint program, I got a good, solid foundation and I had a lot of professors who cared and were nurturing and helpful."
As she continues with her graduate studies at the University of Michigan with plans to graduate in December, McGee looks forward to entering the field with a strong background in geriatric social work. She hopes more social work students will choose the specialty to meet the needs of the growing elderly population and to seek jobs and internships that directly reach seniors.
Opportunities can be found in hospitals, senior centers, assisted living facilities, home care management, and other community organizations. Geriatric social workers help their clients with a variety of services, including Medicaid and Medicare, guardianship matters, durable power of attorney decisions, medical care and prescription drug use, home care planning, mental health concerns, and other needs.
"A lot of times people don't recognize the need for social workers and their usefulness to this segment of the population," McGee said. "The need is there but funding is not always available."
When a social worker assists a senior, family members are often included at some level so the social worker can better analyze the individual's needs while considering family dynamics. "Some grandparents are caring for their grandkids," McGee said, "and some adults are caregivers for their elderly parents."
The UM-Flint Social Work Department within the School of Education and Human Services periodically offers the course Social Work with the Aged (SWR 338) for students interested in better understanding the social welfare policies and social work practices applicable to this age group.
Contact University Communications & Marketing with comments, questions, or story ideas.