UM-Flint and Germany's University of Wuppertal Strengthen Partnership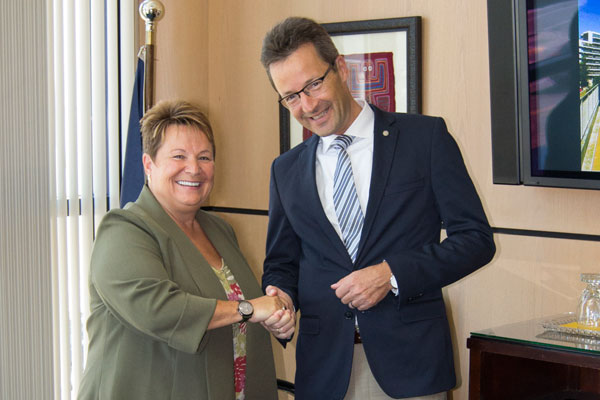 In 2013, the University of Michigan-Flint and the University of Wuppertal in Germany developed a formal partnership, which paved the way for student and faculty exchanges.
This week, a delegation from Germany visited the UM-Flint campus and discussed ways to continue to strengthen this partnership.
Dr. Lambert T. Koch, president (rector) of University of Wuppertal (Bergische Universitaet Wuppertal), along with a physics and chemistry professor and International Office representative, visited UM-Flint this week, and met with university leadership.
Robert Houbeck, director of the Frances Willson Thompson Library at UM-Flint, said the visit was an important step in the next stage of the partnership, with discussions about how to potentially expand the exchange and internship opportunities.
"Getting to know people personally is really important. It helps build trust. It creates contacts so we can understand each other better. I think these contacts are critical," he said.
Houbeck taught an American history course at the University of Wuppertal in 2011, and helped develop the partnership between the two schools.
Several UM-Flint Honors students have worked in the biology and chemistry labs at the German university since the agreement. School of Management students from UM-Flint have worked summer internships in Germany, due to the arrangement. Meanwhile, about 30 students from University of Wuppertal have taken courses at UM-Flint, Houbeck said. Faculty from UM-Flint have and plan to teach in Germany, and Dr. Jürgen C. Wolter of the University of Wuppertal was the 2013-14 Myron and Margaret Winegarden Visiting Professor at UM-Flint.
Claus Weimann, a UM-Flint Academic Exchange Development Officer, is working to further build relationships with businesses in Germany, said SOM Dean Scott D. Johnson.
"We are very excited about our continuing partnership with German businesses that will provide internship opportunities to our School of Management students. This experience provides a valuable opportunity for students to learn and work in a different culture," Dean Johnson said. "We are very pleased to have Claus Weimann serving as the liaison as he reached out to German businesses for their involvement and support of his summer business internship program in Germany for SOM students."
Dr. Maureen Thum, Director of the Honors Program at UM-Flint said the visit provided "very fruitful conversations" with the delegation "for continuing improvement of our already excellent affiliation agreement."
"We are looking forward to continuing an excellent relationship with exchanges of professors and students this year and in the future."
Contact University Communications & Marketing with comments, questions, or story ideas.