UM-Flint Winegarden Visiting Professor Announced for 2013-14
Jürgen C. Wolter, Ph.D., professor of American Studies at Germany's University of Wuppertal has been appointed UM-Flint's 2013-14 Myron and Margaret Winegarden Visiting Professor.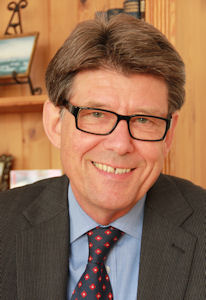 The announcement of his appointment was made recently by Provost Gerard Voland.
Wolter is a widely-published, internationally recognized scholar in American literature and culture, specializing in American drama, the American South, and the literary works of African Americans. Included among his dozens of research visits to the United States was a six-week tour funded by the Fulbright Commission. He serves on the editorial boards of two American serials: Studies in American Drama (Ohio State University Press) and The Southern Quarterly (University of Southern Mississippi).
Wolter received his M.A. in English and Latin and Ph.D. in English and American Literature from the University of Marburg, Germany. Previous to his retirement in 2012, he served as dean and vice dean of Wuppertal's Faculty of Languages and Literature and twice chaired its Department of English and American Studies. During his academic career, Wolter taught American literature, in the English original, to thousands of German students on topics covering the entire history of American literature from discovery (Columbus) to Postmodernism (Delillo, Auster).
Tentative plans for Wolter's Winegarden professorship an upper-level course, a faculty seminar, and public lectures.
Contact University Communications & Marketing with comments, questions, or story ideas.