UM-Flint Faculty Member Selected Fulbright Specialist to Bangladesh
Assistant Professor of Mechanical Engineering and Program Director of Mechanical Engineering Quamrul Mazumder, Ph.D., is no stranger to the government and higher education community in Bangladesh.
Mazumder's work in that country has even been recognized by the U.S. State Department to the degree that he has been selected for a Fulbright Specialist grant in Engineering Education at Bangladesh Agricultural University.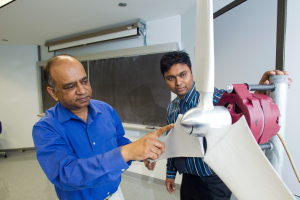 "I was very excited when I received the letter announcing my selection. It's a very competitive selection process and wonderful recognition by the State Department to be considered an international expert on higher education," said Mazumder. He will leave at the end of June for a 30-day assignment. While he will be stationed at one university, he plans on visiting at least five others. Meetings have been arranged with officials from the government, including the minister of education and representatives from other universities.
While in Bangladesh, Mazumder will review current course curriculum in undergraduate and graduate agricultural engineering programs, and provide recommendations for improvements to enhance the quality. He will also provide training to faculty, administrators, and students about best teaching and learning practices.
Mazumder notes that some teaching practices in the country are difficult to change because they are culture-based. He said authority has the final word, and there is very little engagement in the classroom between teacher and students. More faculty involvement and increased communication with students are some of the barriers to change that he will be working to break down.
Mazumder has also been asked to contribute a number of chapters to a new book on improving the quality of higher education in Bangladesh that will be published by the government of that country.
Contact University Communications & Marketing with comments, questions, or story ideas.