Mott Foundation Funds Committed to Excellence and Opportunity Program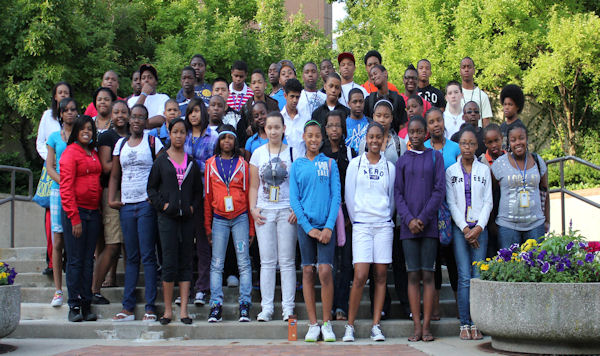 A program operated by the University of Michigan-Flint Office of Educational Opportunity Initiatives (EOI) that brings high school students to live on campus during the summer has received a $415,700 grant from the Charles Stewart Mott Foundation.
According to the foundation, this grant will enable the UM-Flint EOI to continue its Pre-college Summer Residential and Academic Year Bridge Program for students from the Flint, Beecher, and Westwood Heights school districts. As a result of this effort, participating students have increased grade-point averages and benefited from numerous tutoring and mentoring activities that have aided in their academic and personal development, and kept them on-track for graduation.
The purpose of the grant is to provide a full academic year and summer residential program that is comprehensive in the preparation of college during the high school years.  To address the extremely high rates of failures in higher education by young males who come from low income and underrepresented families, the Committed to Excellence and Opportunity (CEO) program targets 50 students of which 55% are males. 
"Our approach is to significantly enhance services and programming to address the critical issue of the decline in high school graduation, post-secondary enrollment, and high dropout rates of young men," said Program Manager Tawana Parks. "While the program serves both males and females, we cannot ignore the educational crisis facing young men."
Some of the students are selected to participate in the summer program that is the foundation of CEO. It is where the standard of excellence is set, support systems are developed, and relationships are built between the students and staff. The students spend five weeks on campus, and can take classes based on their career path interests. Algebra, All About CEO, Writing, Career Exploration, Leadership, Public Speaking, Cultural Diversity, and gender-based courses like "From G's to Gents" and "From Sass to Ladies with Class" are some of the classes offered.
This year, the program expanded by adding a fourth cohort of students to participate in this comprehensive summer and yearlong academic program. Recommended support will enable the Office of Educational Opportunity Initiatives to continue the overall program by bringing back the initial three cohorts of 125 students as rising twelfth, eleventh, and tenth graders and adding a new cohort of 45 rising ninth graders to participate in the program in the summer of 2013 and through the 2014 academic year.  This year, 2013 will mark the first time where a full cohort of students, ninth through twelfth grades, will participate in this effort on the UM-Flint campus.
Through experiential living, learning, and mind-mapping, the CEO program has been able to carve a path to college for first generation college students.
Contact University Communications & Marketing with comments, questions, or story ideas.