UM-Flint Student Selected for National Science Foundation Program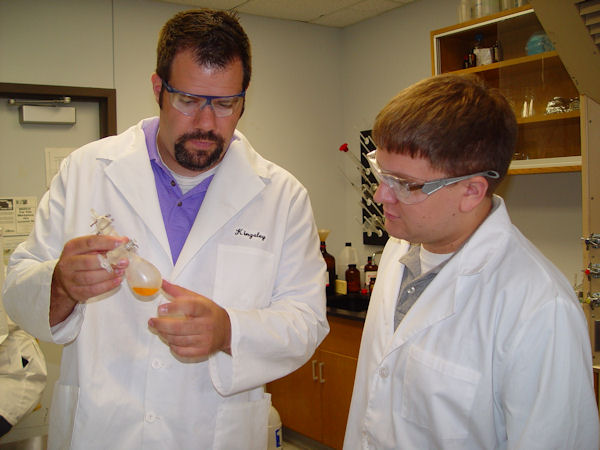 Assistant Professor of Inorganic Chemistry Nicholas Kingsley, Ph.D., spends a lot of time in his laboratory with his undergraduate students because he believes that is where the learning takes place.
"It's hands-on research and it's original," says Kingsley. "We will be publishing a paper at the end of summer and 90% of the work is done by my students."
It is not surprising that an approach like Kingsley's would turn out a student like Logan Shephard.
Shephard was with the UM-Flint Chapter of the American Chemical Society for a meeting in New Orleans recently, when he checked his e-mail and learned that out of hundreds of applicants, he was one of only 17 selected nationwide to participate in a National Science Foundation (NSF) sponsored summer research program on Enabling New Technologies through Catalysis.
"I was very surprised by my acceptance. I had applied the year before (for summer 2012) but was declined," said Shephard. "To know that I was chosen out of the hundreds of well-qualified applicants was quite humbling, and it means I just have to work that much harder to prove that I deserve this opportunity."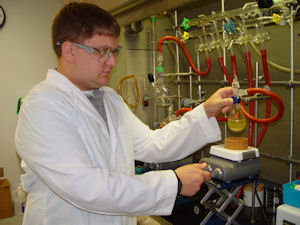 Shephard will be spending 10 weeks at the University of Ottawa beginning in mid-June. In October, he will travel to Seattle to present a paper on his experience in the program.
Shephard wants to eventually get a Ph.D., and he says the opportunity he has had to work alongside his professor will help him be a step ahead in any graduate program.
"Research is especially invaluable to a chemist's education because it requires you to remember everything you've learned. You need the lab skills to be able to perform your experiments, but you also need to remember the theory from lectures to be able to explain your results and come up with theories as to why experiments go wrong—which they often do," noted Shephard. "Since I am planning on pursuing a Ph.D. in inorganic chemistry, my research experience has been invaluable."
Undergraduate research is an important part of the UM-Flint experience.  With funding from individual schools and departments or from the Undergraduate Research Opportunity Program (UROP) an estimated 250 undergraduate students participate in research programs each school year."
Contact University Communications & Marketing with comments, questions, or story ideas.