Hospice Movement Founder Selected as Jack W. Thompson Visiting Professor at UM-Flint
The man who was instrumental in creating the first hospice in the United States, and has since developed 81 hospices in seven countries worldwide, has been appointed UM-Flint's 2013-14 Jack W. Thompson, M. D. Distinguished Visiting Professor.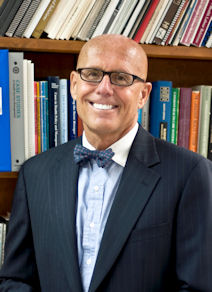 Provost Gerard Voland announced the selection of Robert William Buckingham, DrPH, MA, BA, professor of epidemiology and inaugural dean in the School of Public Health at the University of Saskatchewan. Dr. Buckingham is a world-renowned founder of the hospice movement, and an advocate for global public health in such populations as people with HIV/AIDS.
Dr. Buckingham is a prolific public speaker and writer, authoring 17 books.  He has widely lectured around the United States and the world educating people about public health. The same humanitarian philosophy that lead to his hospice work, which began in 1974, guides his current research. He has a B.A. in government from the University of Arizona, an M.A. in social anthropology from Wesleyan University, and a Ph.D. in public health from Yale University.
Dr. Buckingham has had international impact over the past four decades on the care of the terminally ill and global public health. He plans to engage faculty, students, and the community in lectures and workshops on hospice care, all end stage disease issues, and engage faculty and students in other global public health lectures and workshops. The specific issues that he will discuss concern HIV, emerging infections, population issues, maternal and child public health, and environmental health issues like water safety, security, and sustainability. He will be a guest speaker in several classes in the fall and winter semesters to promote the importance of world public health both historically and currently.
UM-Flint Professor of Physical Therapy Cindy Pfalzer nominated Dr. Buckingham for the Distinguished Visiting Professorship.
Contact University Communications & Marketing with comments, questions, or story ideas.