UM-Flint Celebrates Fall With Maize & Blue Days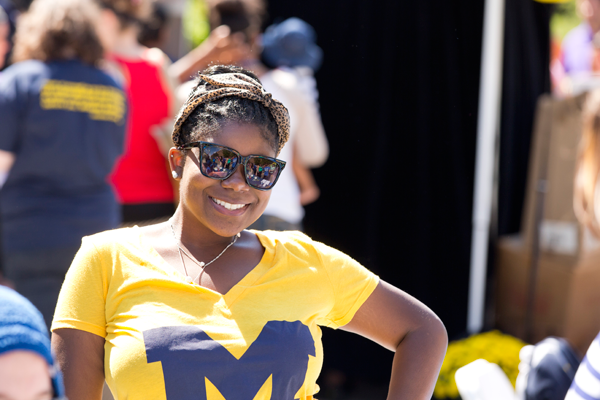 The fall semester is just around the corner and it's time to celebrate! UM-Flint is welcoming students, faculty, and staff with Maize & Blue Days all month long.
Maize & Blue Days are a series of events designed to embrace the new semester, and unite the campus in celebration, said Julie Ann Snyder,  Associate Vice Chancellor & Dean of Students at UM-Flint. The events range in scope and scale. This is by design, Snyder said, so people can participate when and how they want.
"It is a celebration of the university. There are events geared to all groups, and there are events that bring all the groups together," she said.
Some of the large-scale events for students include Fall Carnival and the MGagement Fair.
The Carnival is September 7 from 5:00 – to 9:30 p.m.  at Kearsley & Wallenberg Streets and includes rides, a bounce house, dunk tank and more.
The September 14 MGagement Fair,  from 2 to 6 p.m. on the North Lawn, gives new and returning students a chance to learn about student organizations and the different departments in the university, and how to get involved. Representatives from the groups set up tables and talk about what they do and how to participate.
"This gives our students an opportunity to learn how to get involved on campus," Snyder said. "It helps students connect. Connect with the university.  And connect with one another."
But beyond the big events, there are countless smaller offerings throughout the semester, she said.
Explore different campus groups to join, practice your mindfulness,  join a soccer game, or take an individualized tours of campus. Learn all about these events and so many more here.
Even more, Maize & Blue Days are designed to embrace the greater community, too. Whether downtown Flint is a daily part of your life, or something new for you, there are discounts specifically offered to celebrate Maize & Blue Days. Businesses and organizations throughout the area are partnering with the university by offering 10 percent off purchases from Sept 1 through September 15. All students, faculty, and staff have to do to get the discount is show their MCard.
This year, there is another reason to honor all those associated with UM-Flint. The university is honoring its history, and creating new paths for the future. A series of events throughout the fall semester will celebrate the university's 60th anniversary. This includes a community celebration September 8,  located at the downtown flat lot at Kearsley & Saginaw Streets.
The festivities start at 8 p.m., and there will be a spoken word performance, tap dance, performances by more than 30 members of the Michigan Marching Band, a light show projected onto the Mott Foundation Building, and more.
Snyder said new students can start off their academic careers right by embracing the history of UM-Flint and what that means. And faculty, staff, alumni, current students, and community can celebrate their contributions to the university.
"Hopefully people can see themselves as part of the legacy that the university has had on students and the community, and they take time to celebrate that."
Contact University Communications & Marketing with comments, questions, or story ideas.