UM-Flint Engineering's Off-Road Racer Visits the "Bricks"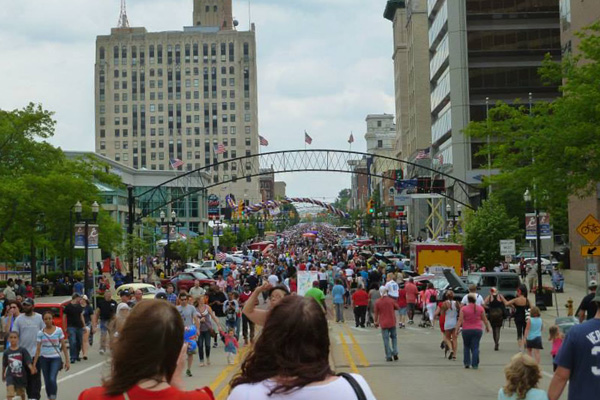 Each August, Back to the Bricks celebrates Flint's legacy as part of the automotive industry and brings nearly half a million visitors to the downtown area. On the Friday of this famous weekend UM-Flint hosts Go Blue on the Bricks, its annual alumni gathering. This year visitors to both events can get up close and personal with UM-Flint engineering's most recent student project: an off-road racer created for a Baja SAE competition.
The racer's presence will give those gathered a chance to see the level of work being done by current students—more notable, perhaps, as it was completed in their free time outside of class.
The vehicle is student-designed and built. They cut, shaped, and welded steel and aluminum into automotive parts, developed an electrical system, and repurposed brakes from mopeds in the university machine shop. It is a great example of UM-Flint engineering's dedication to hands-on learning, but it was also fun for the students—especially driving it in competition. Said junior Hassan Freeman, "It was awesome. When you drive this car, nothing exists except you and the track, and maybe the guy you are passing."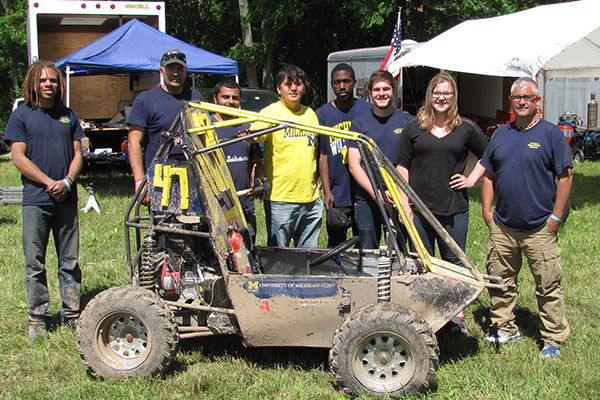 On Saturday, August 20, the racer and members of UM-Flint engineering will join other area educators at the Hot Rod High (HRH) display during Back to the Bricks. Noted HRH co-founder Robert Ayre, "This year's exhibit will feature all of our local colleges, and some of our best high schoolers in the city. We try to give our area youth an opportunity to explore the mechanical side of the automobile. We are encouraging their active participation in our auto-related careers, education, and hobbies."
The Hot Rod High display will be located on the south side of the flat lot along 1st street.
John O'Brien, UM-Flint engineering technician, hopes that over the two days he and his students will be able to meet individuals interested in pursuing a degree in engineering and community members who want to be involved with the UM-Flint engineering program. Said O'Brien, "The Baja Racer and projects like this show the outside world that we have an engineering program. . . This is a win for the university and a win for the students as well."
---
For more information on UM-Flint Engineering, call 810.762.3131 or visit umflint.edu/engineering.
Contact University Communications & Marketing with comments, questions, or story ideas.