UM-Flint International Ambassadors Mentor New Students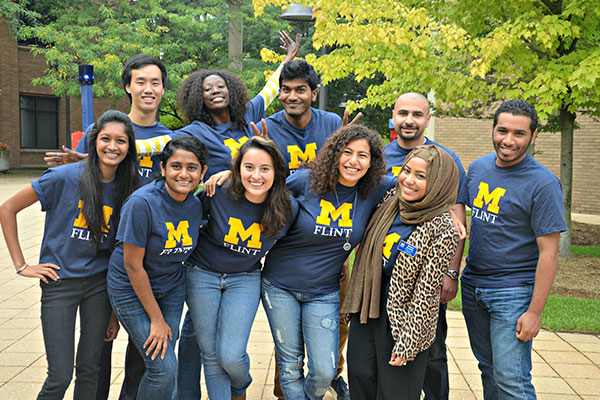 Mohamed Mohamed sees his role as a UM-Flint International Ambassador as much more than just a campus job.
The graduate student in business administration is a mentor and a guide through the International Center's ambassadors program. He is making international students feel welcome on campus, and alleviating any worries from the students' faraway family members. And Mohamed is helping connect the new students to the broader campus community.
"It's a good way to help others adjust and adapt," Mohamed said about his role as an international student ambassador. "We can talk to them about anything they want to know about. We can shorten this period of adjustment for them."
The International Ambassadors program started in the fall of 2014, as a way to lend support to prospective and incoming international students.
Students from a broad range of countries have been or are current ambassadors. Since the program started, the student ambassadors have been from Saudi Arabia, Nigeria, Egypt, the United States, Malaysia, India, China, and South Korea, said Kelly Wagner, the university's International Student Engagement Coordinator.
The students, who are paid for their work, mentor incoming students for at least a semester, but often longer. They invite them to events, answer their questions about campus in person, on the phone, and in e-mail, and provide them with emotional and day-to-day support.
The ambassadors help make connections between different cultural and student groups.
Wagner assigns ambassadors to the new students in several ways, such as field of study, where they are living on campus, and native language.
"New international students are so overwhelmed by all the change," Wagner said. "It's nice to find somebody that is from the same region as them, to have some comfort when everything around them is very different."
The student-driven, formal university program is uncommon in the state, said Wagner, who is also chair of the Michigan Association of International Educators.
"It's definitely seen as a best practice around Michigan and people want to recreate it," she said.
Mohamed started at UM-Flint in the Winter 2015 semester after earning his undergraduate degree in his native country of Egypt. The International Center events helped make him feel comfortable on campus.
"It helped get me more involved on campus," Mohamed said. He joined the ambassadors program last fall to improve his leadership skills and to help those experiencing the campus for the first time.
"Even though it's part of the college experience, being on your own and being independent, you still will need some help sometimes," he said. "And being so far away from your family and friends, it's not easy to get help from them. So what the university provides in all the support through its programs is it makes sure these students get all the help they need."
Menusha Arumugam, an Honors senior majoring in biology, started at UM-Flint in the spring of 2014, moving from her home in Malaysia. She found encouragement from the International Center, and became one of its first Ambassadors that fall. She continues in this role, and said it's often a simple event invitation that makes the biggest impact on new students.
Often, the new students won't go to events because they don't know anyone and this isolates them further. The ambassadors make sure they'll be at the events and directly encourage the new students to join them.
"They won't feel alone," Arumugam said.
The program constantly evolves, Wagner said, based on what the ambassadors want to do. For example, it started a local Relay for Life team, that draws international students from various student groups.
"A lot of the ambassadors are in so many different groups already," Wagner said. "It helps a lot of students from different communities to come to the same events or meet each other and mingle. You have people who have those connections."
Contact University Communications & Marketing with comments, questions, or story ideas.