UM-Flint Staff Spotlight: Jean Harkins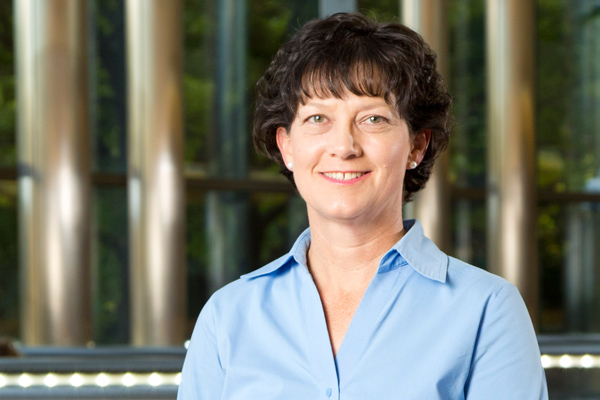 Each year, the UM-Flint Staff Council's Staff Recognition Award is given to deserving candidates who have been nominated by supervisors or colleagues from around the university. The award criteria focus on leadership, teamwork, service, and dedication.
In 2016, nearly twenty deserving candidates were considered before two winners were selected. However, being nominated is an honor in and of itself.  We would like to highlight those nominated and share their stories as submitted by their nominators.
---
Meet Jean Harkins
Jean Harkins is the administrative assistant intermediate for the Department of Social Work in UM-Flint's School of Education and Human Services (SEHS). She has served in her current position since July 2014, and has been a UM-Flint staff member since October of 1999.
Her supervisor, Dr. Otrude Moyo, described Ms. Harkins as a "quiet leader" who "has been an emblem of building supportive relationships." A quality appreciated by a department that "values building positive relationships and inclusivity." Dr. Moyo also spoke to Ms. Harkin's strengths as a front-line employee by noting, "Her knowledge and openness makes it possible for her to offer accurate information in various situations for diverse people."
Ms. Harkins' qualities of honesty, integrity, dedication, and good will were noted multiple times in her nomination packet. Dr. Moyo can attest to those qualities, even when unusual requests are made: "I was stuck on the other side of the planet in South Africa and had to call her at dawn to solve a problem. She helped without complaining, never mind that it was the middle of the night! I have repeatedly witnessed her do the same for each and every faculty member, staff, and student in our department."
Social Work faculty member Dr. Jessica Camp supported Ms. Harkins' nomination, noting, "Jean is one of the most organized, hardworking, and positive individuals that I have ever had the pleasure of working with. Single handedly she supports the needs of the entire social work department."
Dr. Camp closed her nomination letter by noting, "When I say that Jean is the glue that holds the department together, I am not exaggerating in the slightest. She is by far the most valuable member of the social work department, maybe even the most valuable member of the University."
Part of the UM-Flint Team
Ms. Harkins' nominators also spoke at length about her strength in the areas of leadership and teamwork. Two factors that make her an integral part of the UM-Flint team and help her connect to the university outside of her department. Dr. Moyo noted, "To illustrate Ms. Harkin's leadership, she has gone beyond the social work department to volunteer for activities that support students, faculty, and staff wellness. Taking the wellness issue beyond herself to encourage others."
Ms. Harkins' value to the university was echoed in her nomination for a UM-Flint Sterling Staff Award, submitted by one of her colleagues: "You can always depend on Jean for help and excellent follow-through on all tasks, both big and small. It is inspiring to see her commitment to UM-Flint students. You see her at many social work functions, but also at a variety of other student events. It is obvious that she cares and that working here is more than a job for her. She always takes time to make a personal connection and show interest in all whom she meets."
Congratulations, Jean Harkins, on your nomination!
---
For more information on UM-Flint's Staff Council and the ways in which it serves the staff of the university, visit umflint.edu/staffcouncil.
Contact University Communications & Marketing with comments, questions, or story ideas.