UM-Flint Early Childhood Major Tailors to Students' Interests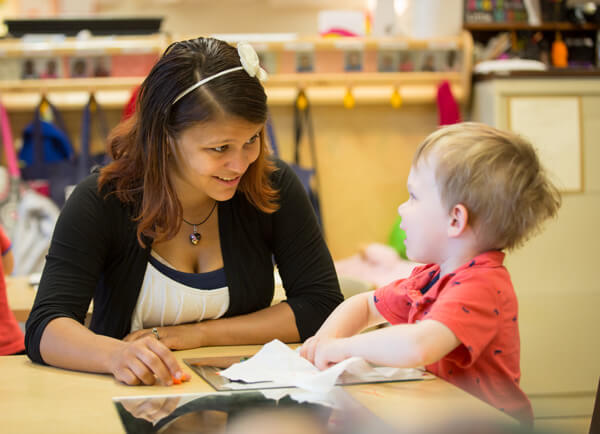 The new major in Early Childhood Studies at the University of Michigan-Flint offers courses that are tailored to the professional interests of students who may already be working in day care centers or in other fields that serve families with young children.
"People may want an early childhood education but may not necessarily want to teach in elementary school settings," explained Christine Kenney, Assistant Professor of Education in the School of Education and Human Services. "In designing this degree program, we're trying to be responsive to non-traditional learners and to those who are working full-time in child care already.
Examples of those who would benefit from the new degree offering include individuals working in policy-making, child advocacy, mental health, school administration, health care, social work, professional consultation, and child care centers, as well as those who wish to advance to graduate studies.
The program is designed to reach many different fields that touch on early childhood issues and education. It allows students to complement their major with two approved minors from any program on campus, such as art, music, psychology, social work, foreign language, theatre, chemistry, or others.
"The program was designed with multidisciplinary study in mind, in order to encourage students to follow their curiosities and develop broad interests," said Early Childhood Education Associate Professor Aviva Dorfman.
Rather than seeking two minors, students also have the option of taking one minor and the remaining credits from an approved list of electives to personalize their educational path. Electives might include courses in business, finance, public health, management, social work, and more; students may also propose courses for approval as electives. "We need people who are very knowledgeable in different disciplines and to bring those disciplines to an early childhood setting," Kenney said.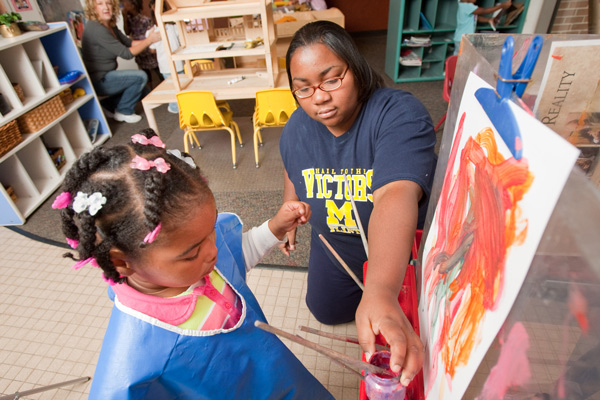 The ECS major requires at least 128 credits, depending on the minors and electives that students choose to pursue. Core coursework delves deeply into early childhood learning processes, such as emergent literacy, play and learning, and mathematical thinking.
Students pursuing the major will have multiple opportunities to interact with children and observe how children learn from different materials and instructional approaches. In addition, students will complete two semesters of valuable fieldwork, working closely with a mentor.
The bachelor program also provides an important and timely educational opportunity for professionals working in a variety of fields who are serving children and families impacted by the Flint water crisis and exposure to lead-tainted water.
"This program shows that UM-Flint is dedicated to early childhood as a profession and as a discipline," Kenney said. "We're trying to train individuals who understand and are connected to the Flint community so that they can stay here and help with these efforts."
ECE 235 Working with Families, Children, and the Community is a required course for all early childhood programs at UM-Flint and is a perfect way to begin the new major this fall.
Interested students are encouraged to contact Department of Education faculty members Aviva Dorfman, Christine Kenney, or Toko Oshio for one-on-one advising now at 810-762-3260.
Contact University Communications & Marketing with comments, questions, or story ideas.