Networking is Key Component of UM-Flint Ed Tech Program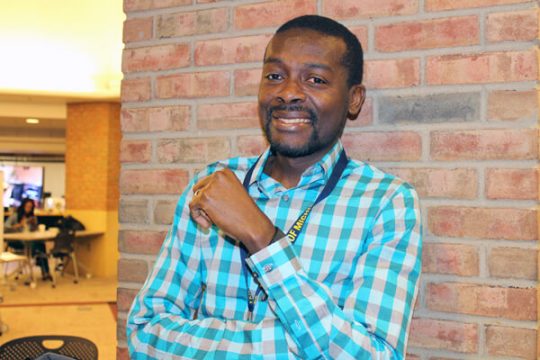 The Master of Arts in Educational Technology Program at the University of Michigan-Flint provides students with direct opportunities to network with leading field professionals to transform creative ideas into real projects and programs.
For these students, collaborating with their professors and other educators, designers, entrepreneurs, and technology professionals does not dilute their sense of originality. Instead working closely with experts and field leaders helps them to transform their ideas into cutting-edge programs, games, or instructional strategies that impact teaching and learning.
Several UM-Flint educational technology graduate students attended the Institute for Innovation in Education's (iiE) Ann Arbor gathering recently where a mix of educators and other professionals came together to discuss topics in the field and to collaborate on new and old ideas. The students participated in workshops or a public symposium, where they explained how their projects worked in practice.
A graduate student who taught for several years in Ghana before studying at UM-Flint, Maxwell Dziku developed an "Easy Thank You" app that parents can use to give instant electronic feedback to their child's teacher noting their child's behaviors that can be attributed to what they have learned in school.
"It can also serve as a motivation for the student to work harder because the student knows that the parent is involved with giving feedback to the teacher," Maxwell said.
Maxwell enjoys the hands-on learning in his ed-tech courses at UM-Flint. "The program is very engaging and the peer review process in the program is very effective," he said. "Working collaboratively with people is very interesting. Seeing other people's work motivates me to do better."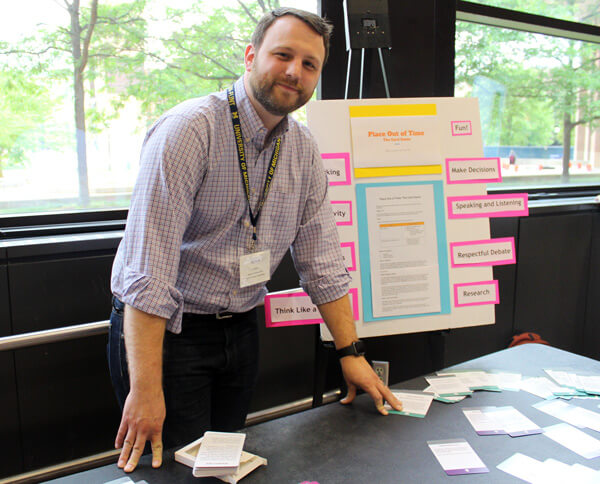 The UM-Flint Educational Technology Program offers two tracks: a Developer track for those interested in designing innovative learning environments through software, media mobile apps and other technological tools; and a Curriculum & Instruction track for those who want to focus more on the meaningful use of technology in classrooms.
Graduate student Mike Hastings, a teacher in Grand Rapids who chose the Curriculum & Instruction track, presented his reflections about using Google Apps and iPads in the classroom during the event.
Mike enjoys the collaborative atmosphere in his graduate courses. "I've built relationships with peers, not only teachers but also those in technology," he said. "Education is a networking career."
Networking also boosted graduate student Bob Larson's success in the program. He presented his Place Out of Time card game developed from an online simulation and designed for middle to high school classrooms. The fun game places famous historical figures in interesting dilemmas as players research a character and debate one another from their character's unique perspective.
"The Ed Tech Program let me take ideas and turn them into real projects," Bob said. "Because of this master's program and the iiE, I was able to make it into something real."
Contact University Communications & Marketing with comments, questions, or story ideas.