UM-Flint Students Depart for South Africa Study Abroad Trip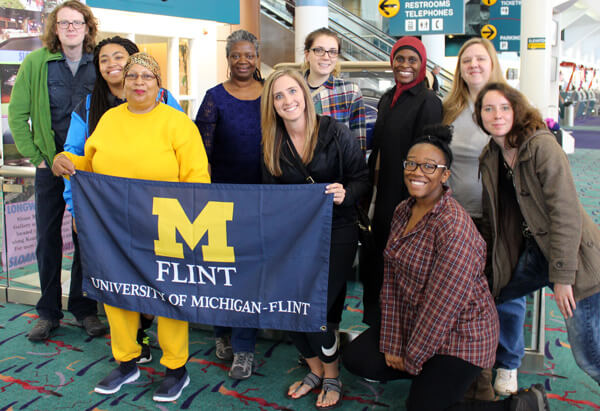 An enthusiastic group of ten undergraduate students, faculty, and staff from the University of Michigan-Flint departed Flint for South Africa Friday, marking the start of their summer International and Global Studies (IGS) study abroad course: Rethinking Social Development in Southern Africa.
The students, whose majors include social work, psychology, biology, and others, began their three-week journey hoping to refresh and refine their views about humanity and cultural awareness while participating in a deep intercultural dialogue with one another as a team and with South Africans.
"It will be a life-changing experience," said Roz Ivey, social work student and administrative assistant for the School of Education & Human Services Dean's Office. "I'm looking forward to seeing how they live their everyday lives differently than how we do."
The group, along with Social Work Department chair Otrude Moyo, will be writing daily notes and reflections in their personal journals as they tour Johannesburg, Gauteng Province, Cape Town, Western Cape Province, East London, and Eastern Cape Province. They will spend two weeks in Fort Beaufort where they will participate in a community cultural event called Ubuntu Arts, Dialogue, and Diversity.
"The most insightful thing for the students is to learn what they bring as individuals to the community," Moyo said. "This journey is a way of understanding ourselves in our own culture. Unless you understand your own culture, it is difficult to embrace multicultural living and begin to appreciate global interdependency and that we live in one world that is interconnected economically, politically, and culturally."
One of their missions during the trip is to continue to learn about Ubuntu, or African way of life, and how the community lives Ubuntu. As part of that discovery process, students will be immersed in South Africa's diverse artistic expressions, including dance, music, bead work, and cooking, and they will explore the natural landscape with hiking trips and a visit to Addo Elephant National Park.
"I hope to get some closure on my questions about humanity," said student Jaslyn Morris. "I've noticed many people aren't inherently good. It seems like people are selfish rather than helpful to others. I want to look at how we can bring back the good in society."
Along the trip, they will explore historical sites that shed light on the history of South Africa's social, political, economic, and environmental injustices, as well as the struggle against apartheid.
A few of the scheduled stopping points include Nelson Mandela's former residence in Soweto, Constitutional Hills, the Apartheid Museum, Hector Pieterson Memorial Museum in Johannesburg, and in Cape Town visits to Robben Island, Slave Lodge, Gugulethu, and Khayelitsha.
Group member Briana Dodd is a psychology major and direct care worker at Whaley Children's Center in Flint, where she cares for children who have experienced trauma and hardship. "I'm excited to be going into the schools and working with the kids and learning about different cultures," she said. "It will be cool to see how children are raised and how that affects their social skills and capabilities."
Briana received a scholarship through IGS Study Abroad at UM-Flint to help cover the costs of the trip. "Studying abroad always looked nice but I never thought it would be attainable," she said. "Without this program, I wouldn't have been able to go."
Contact University Communications & Marketing with comments, questions, or story ideas.