UM-Flint Business Alumnus Innovates Jilly's Pizza Delivery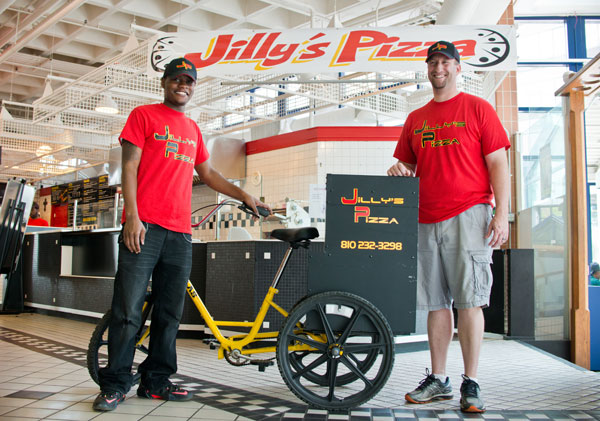 Jeremy Fisher (on the right in the photo above) achieved a lifelong dream of owning his own business when he bought Jilly's Pizza in 2013.
There was only one problem—downtown Flint, with its appetite for pizza, wasn't the easiest place to make deliveries.
Fisher knew he needed his deliverers to have something other than a car, which was just too cumbersome. They would have to first get their cars out of a ramp, then drive a few minutes, then find a place to park.
The solution wasn't just something that allowed for faster deliveries but something that also just looked cool: a delivery bike.
"We basically created our own pizza cart," said Fisher, a UM-Flint graduate in business management and accounting.
They had to create it because, as it turned out, there aren't a whole lot of pizza delivery carts out there.
"They're hard to come by, and expensive," Fisher said.
Fisher got online and bought an adult-size tricycle. All it had, though, was a basket on the front. Using a combination of wood, sheet metal, and a lot of screws, Fisher made his own custom delivery cart, capable of holding up to ten pizza boxes.
"This way they can cut right across campus and our delivery times are a lot faster," Fisher said. "Even downtown…you can go right to the doors and not have to find a parking spot."
It also gives Jilly's its own unique identity. The cart is painted with the Jilly's logo and, well, it's hard to miss a tricycle full of pizzas on its way to a hungry customer—faster than a car could get there.
Contact University Communications & Marketing with comments, questions, or story ideas.