UM-Flint Filmmaking Project Supports Young Talent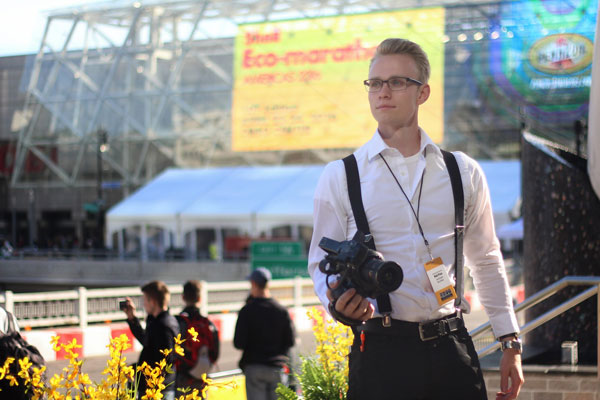 The Flint Youth Film Festival, a free program that originated through the UM-Flint Department of Communication and Visual Arts, is accepting entries through June 15.
The July 28 festival will be hosted by the Flint Institute of Arts, and will give media artists a chance to showcase their skills and network with peers and professionals, organizers said.
"It's a great resume builder for young people seeking to get into college and art school programs, or work in the field," said festival director Donna Ullrich, a LEO lecturer within the Communication and Visual Arts department at UM-Flint.
The festival is open to those ages 13 through 25, and college students of any age. It is a program of the Flint Youth Media Project (FYMP), which is run through UM-Flint's Communication and Visual Arts department. The FIA, Mott Community College, and iMichigan Productions are partners in the festival.
The festival encourages creativity and a range of videos. Special equipment isn't necessary, Ullrich said, as participants can use smartphones, tablets, computers, and digital cameras. There are six categories: fiction, documentary, music video, animation, experimental, and public service announcement. The general theme is "tell us a story close to home in any way you want to tell it."
There will be cash prizes and the films will be shown for 30 days in the FIA's video gallery. They also will be featured on the film festival website.
FYMP held nine filmmaking workshops on UM-Flint's campus this academic year, with topics such as directing, editing, camera work, and sound editing. It also runs the Archway blog, which showcases the young artists' work. Ullrich said the Flint Youth Media Project has helped young people develop team problem solving, and networking skills, along with a host of other benefits.
"It is a community outreach program seeking to reach young media artists and help develop their media skills, along with skills in literacy, sciences, math, and technologies," she said.
The program has received support from the Ruth Mott Foundation, the Michigan Council for Arts and Cultural Affairs, UM-Flint, and the Community Foundation of Greater Flint. The project continues to evolve. Students from both UM-Flint and Mott Community College work on the project and festival.
"We would like to maintain the websites and the festival and add summer media camps, where university media students mentor young students in information gathering, script writing, production elements," and other topics, she said. "Eventually we'd like to see an after school program for media students and a student run media production program."
Contact University Communications & Marketing with comments, questions, or story ideas.