UM-Flint Engineering Professor Discusses His Textbook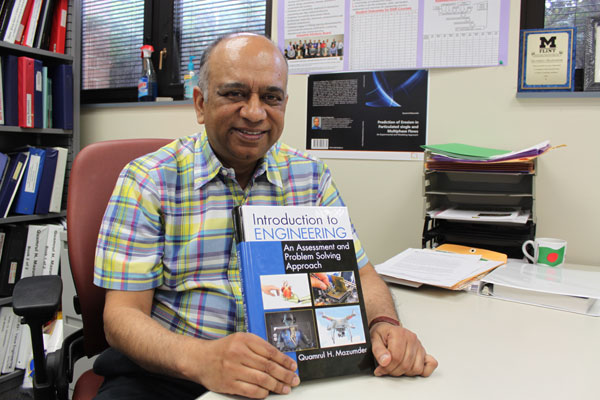 University of Michigan-Flint Associate Professor of Mechanical Engineering Quamrul Mazumder recently wrote an engineering textbook, which is now being used at universities across the country and world. He shares his thoughts on his book, Introduction to Engineering: An Assessment and Problem Solving Approach, which was published in February of this year. Dr. Mazumder discusses his motivations, how he developed the content, and more, in this interview with University Relations.
What motivated you to write this textbook? How did you connect with the publisher?
The primary motivation was to further the evolution of engineering education by preparing first-year students to solve global issues through development of technologies, processes, and services. Most of the first-year engineering students do not possess the fundamental knowledge, skills, and abilities needed to succeed in engineering education or the profession. The book is expected to provide information about how students can develop the required competencies for a successful career in engineering.
The number of introductory textbooks in engineering is limited and do not address some of the important issues in engineering education. I met the publisher at a conference when they expressed an interest in a book for first-year engineering students.
What research went into creating the content for the book? How long of a project was it from initial research to publication?
A significant amount of work was done initially by a survey to all engineering faculty around the world who teach introductory engineering courses. The survey sought information about what topics and issues need to be addressed to prepare first-year students for successful completion of their degree.
I have been conducting research in motivation, learning style, metacognition, teaching styles, and learning strategies. The research findings were integrated in the book to help students with different approaches they can use to become a better learner.
A significant amount of time was devoted to prepare the manuscripts, tables, figures, and other ancillaries. It took approximately three years from initial work to final publication of the book.
How did you focus on differentiating your book from other Introduction to Engineering textbooks? In what particular ways does it engage students?
The other introductory engineering textbooks are content based providing information about different topics in engineering and different engineering disciplines.
This book focuses on student learning with chapters such as "How to Learn", motivational techniques, and assessment of student learning. This book also provides guidelines of engineering accreditation standards and competencies needed to succeed in the engineering profession. These topics are not presented in other similar textbooks.
Where is the book available? Do you know specific places it is being used?
The book is available from the publisher CRC Press, here. The book has been adapted to Introduction to Engineering courses at several universities in the US and around the world.
What advice would you have someone writing their first textbook?
The author must be passionate and possess deep knowledge in the subject matter. Writing a textbook is a long process and demands a significant amount of time to prepare the manuscript. The author should consider carefully whether the required amount of time will be available to dedicate in writing the book. Before writing a book, it is important to contact potential publishers to evaluate whether there is any interest to publish the proposed book.
Contact University Communications & Marketing with comments, questions, or story ideas.