UM-Flint Early Childhood Center Honors Preschool Graduates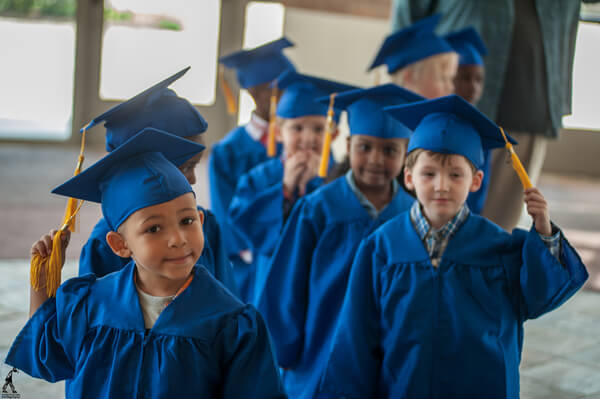 Friends and family celebrated with the Early Childhood Development Center staff Thursday at the University of Michigan-Flint as 56 children reached an important milestone: graduating from preschool and preparing to enter kindergarten in the fall.
Teachers at the ECDC praised the graduates as they stood together in front of the crowd in the William S. White Building, fidgeting and smiling in their little blue caps and gowns with maize tassels.
ECDC director Della Becker-Cornell alongside teachers in the Vento, Cielo, and Cascata preschool classrooms highlighted the variety of learning activities the children experienced during the year, and showed slideshows and video clips, making each child feel like a star.
"The children have learned many priceless lessons and will continue to do so," Becker-Cornell said, while encouraging parents to be patient and supportive as their kids transition into kindergarten. "You understand the importance of a strong foundation for your child's future. We feel very confident they have a great start."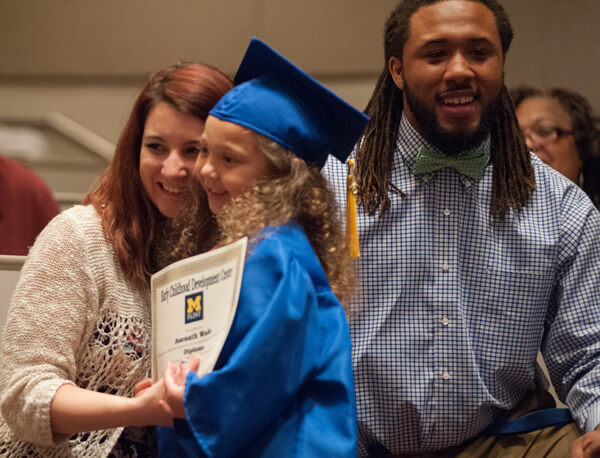 Throughout the year, each class had many opportunities to soak in knowledge from interacting with their teachers and one another, and by experiencing the Flint and campus communities with walking tours and activities.
The Center is guided by the Reggio Emilia philosophy and the idea that children are competent and capable learners who are able to direct much of their own learning with guidance and discovery in the natural environment.
Teachers spoke proudly of each young graduate, describing their unique personalities that developed during the year, and noting valuable life skills that they learned just by observing them: patience, compassion, forgiveness, friendship, and more.
"They taught us how independent they can be with one another," said Deondra Cross, Vento Room associate teacher. "From the beginning and throughout the year, they bonded. They're making friendships and strong connections with one another through playing and learning."
Contact University Communications & Marketing with comments, questions, or story ideas.