UM-Flint Hires New Research Director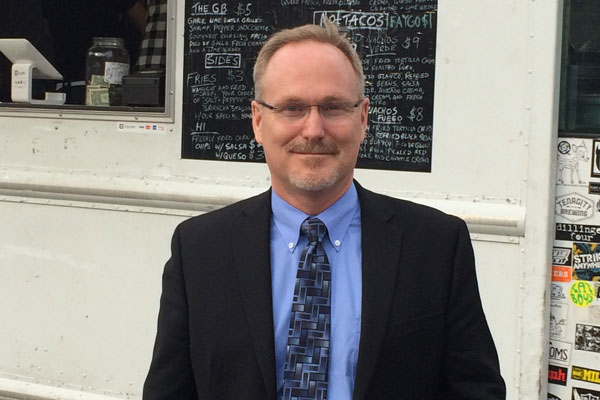 A research scholar from the Ann Arbor campus of University of Michigan will be the new Director of the Office of Research and Sponsored Programs at the University of Michigan-Flint.
Dr. Kenneth Sylvester starts at UM-Flint June 15. He is a research associate professor at the Inter-university Consortium for Political and Social Research (ICPSR), which is a center within the University of Michigan's Institute for Social Research.
"Dr. Sylvester is an interdisciplinary historian who has worked on and supervised several federally-funded research projects on the relationship between population and environment," said Vahid Lotfi, Senior Vice Provost and Dean of Graduate Programs at UM-Flint. Lotfi served as acting director of the research office during the national search for director.
"He has presented his work in many national and international conferences, published sole-authored and co-authored articles in social science, history, and environmental science journals, and is co-editor of a scholarly journal," Lotfi said. "He has extensive post-doctoral training in qualitative, quantitative, and spatial analysis methods."
Sylvester earned his PhD in History from York University in 1997, and has served as research fellows at the University of Alberta, and University of Victoria. He has been a research fellow, research investigator, assistant research scientist, and research associate professor at ICPSR since joining the consortium in 2001. He has been in his current position since 2010. He is also a faculty affiliate within the Population Studies Center within the Institute for Social Research.
"I look forward to working with the faculty at UM-Flint, getting to know about faculty and their research interests, and especially helping first-time applicants to craft funding proposals," said Sylvester. "With the national attention focused on Flint, this represents an important moment to advance community-engaged research. The interests of the foundations is significant and review panels at national funding agencies will be more receptive to proposals from UM-Flint and its partners."
Dr. Kathryn Schellenberg, chairperson of the search advisory committee involved in selecting the new research director, said Sylvester impressed with talents in a wide variety of fields, such as interdisciplinary collaborations, finding funding sources, working with faculty, and scholarly work. Schellenberg said Sylvester's extensive knowledge of the University of Michigan system is also helpful.
"I see him being able to have good, informed, collaborative working relationships with faculty at this university across many disciplines," said Schellenberg, who is director of UM-Flint's Public Administration (MPA) program.
Lotfi said Sylvester's varied skills will help him thrive at UM-Flint.
"I am confident with his combination of extensive scientific research and strong leadership, he will help advance UM-Flint in scholarly and creative works, as well as external funding," he said.
Contact University Communications & Marketing with comments, questions, or story ideas.