Fourth Grade Essayists Honored at UM-Flint Writing Adventure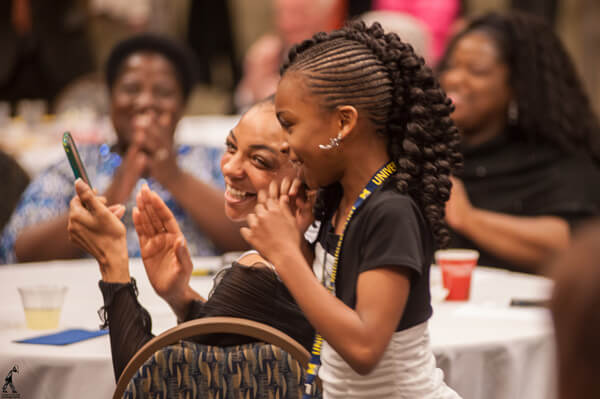 Top student essayists from eight Flint elementary schools were honored during the Christopher Paul Curtis Writing Adventure celebration this week at the University of Michigan-Flint.
Family, friends, and School of Education and Human Services faculty and staff gathered to formally recognize and praise the students for their accomplishment.
In all, eight fourth graders from Flint Community Schools were selected as top essayists from their elementary school: Amiya Johnson of Durant Tuuri, Nicholas Washington of Doyle Ryder, Nikiah Nash of Eisenhower, Angel Coleman-Valentine of Freeman, Lyric Powell of Holmes STEM Academy, Ja'Karyi Ross of Neithercut, Edgar Alvarez of Pierce, and Emery Stewart of Potter.
Nikiah Nash received the first-place award for her beautifully descriptive essay about her scary adventure of riding a roller coaster at Michigan's Adventure; Lyric Powell received the second-place award for her essay about what makes her unique; and Emery Stewart received the third place award for his essay about living the Flint water crisis.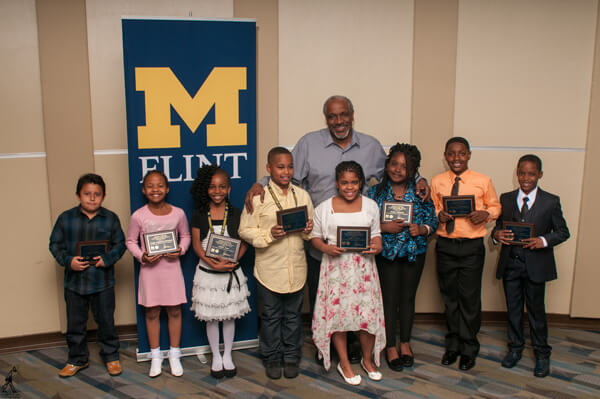 Award-winning children's author and UM-Flint alumnus Christopher Paul Curtis presented the students with their awards while reminding them of the valuable communication skills that they develop simply from expressing themselves by practicing their writing.
He also acknowledged the families who have supported and encouraged their children at home. "Not one of these students would be here if there was not someone at home supporting them," Curtis said.
After the presentation, the top three honorees voluntarily read their essays aloud to the audience, receiving enthusiastic applause.
Emery Stewart described his family's difficult experiences adjusting to the water crisis: accepting cases of bottled water, using bottled water to brush their teeth, and jugs of water for cooking. "Our Gov. Rick Snyder needs to change the pipes in Flint," he read. "That water is the scariest thing that ever happened to me."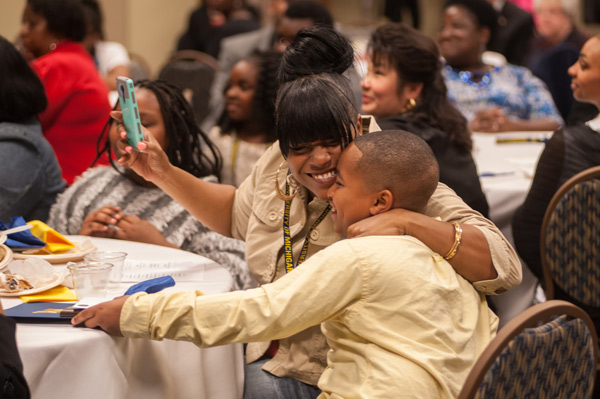 Lyric Powell, who moved from Detroit to Flint earlier this year to live with her grandfather while her mom attends college out-of-state, read her essay about the qualities that make her unique and how she handles personal challenges with confidence.
Already an advanced student in her class in math and writing, Lyric's dream is to be a lawyer or a doctor. "People told me I'm four-eyed, but I'm happy to be four-eyed because I can see," she read. "I'm full of joy. I'm grateful for everything I get."
The Christopher Paul Curtis Writing Adventure is sponsored by Mr. Curtis, Flint Community Schools, Flint Public Library, Flint & Genesee Literacy Network, Jack Hamady Fund administered by the Community Foundation of Greater Flint, Stella and Frederick Loeb Charitable Trust at First Merit Bank, UM-Flint SEHS, and UM-Flint's Smart Teachers as Role Models (STAR) Program.
Contact University Communications & Marketing with comments, questions, or story ideas.