Author & UM-Flint Alumnus Christopher Paul Curtis Inspires Flint Fourth Graders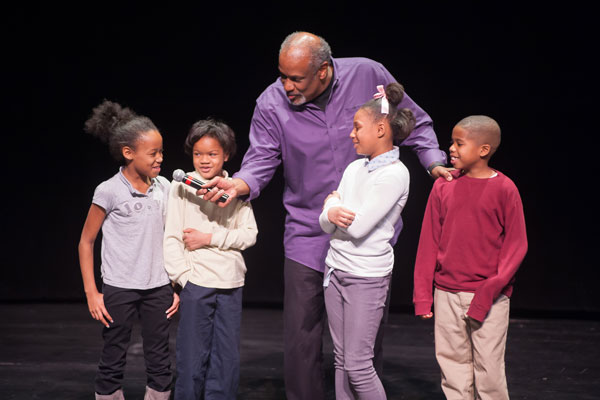 Children's author and UM-Flint alumnus Christopher Paul Curtis shared his writing inspirations with more than 400 lively fourth graders from Flint Community Schools on Tuesday at the University of Michigan-Flint Theatre.
The award-winning author also revved up the kids' enthusiasm for storytelling as they listened to his humorous anecdotes of his experiences growing up in Flint, attending the schools here, and working for General Motors.
At a time when community efforts to promote literacy are increasing throughout Genesee County, Curtis' message was especially relevant as he shared examples of  how the simple habit of reading impacts so many areas of a child's life.
"You've got your dreams," Curtis said to the students. "Work on them. The two most important things though are to learn to read and write well."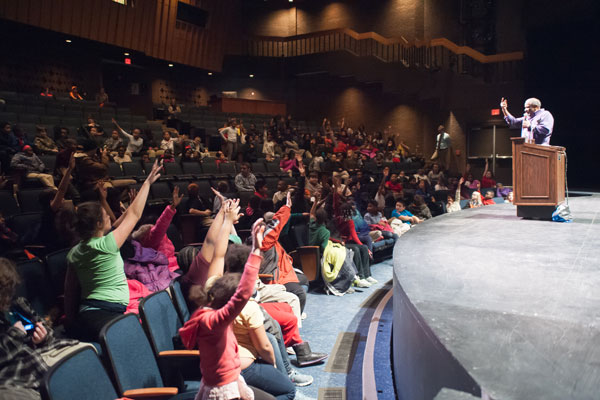 Curtis invited the children to participate in his essay contest by writing a personal essay about themselves. He will review selected essays from the elementary schools and announce winners in May.
Going on 21 years in the writing business, Curtis is the author of nine books, which he describes as historical fiction. Many of his books reveal familiar local settings with characters that are impacted by racism and poverty.
During the event, he answered questions from the children about his characters in Bud, Not Buddy and The Watsons Go To Birmingham-1963, discussing how he uses imagination to change real happenings into fiction.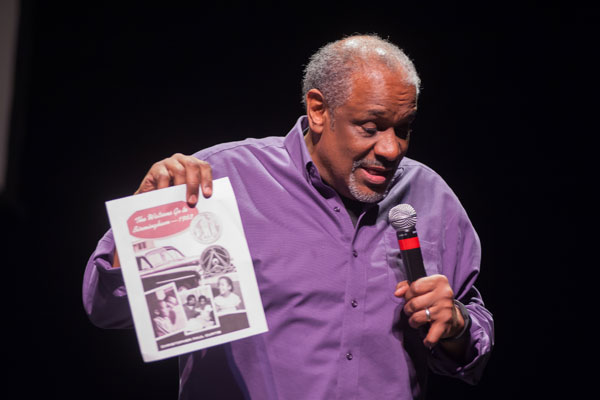 This was Pierce Elementary teacher Shelli Burkhardt's third year bringing her class to UM-Flint to hear Curtis speak at the Writing Adventure program. She and her students enjoyed reading The Watsons Go to Birmingham-1963 this year.
"He's a great storyteller," she said.  "When we go back to school, the students really want to write for him. They want to do their best and show him they can be great writers."
The Writing Adventure is sponsored by the UM-Flint School of Education and Human Services in partnership with the Flint Community Schools, Flint Public Library, and Flint & Genesee Literacy Network.
Contact University Communications & Marketing with comments, questions, or story ideas.