Water Crisis Sparks Conversation at UM-Flint Social Work Town Hall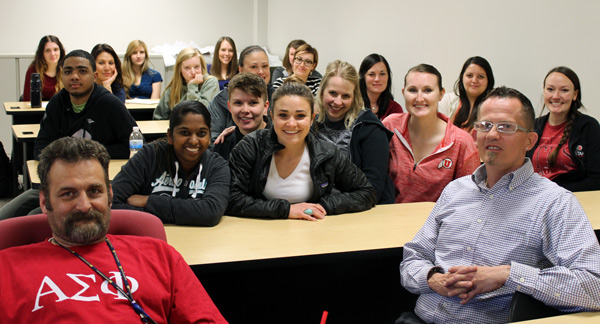 Social work students from the University of Utah, Touro College of New York, and the University of Michigan-Flint gathered Monday to discuss the Flint water crisis during a UM-Flint virtual town hall meeting, seeking to better understand the situation and find effective ways to help.
Social work students from the University of Utah flew to Flint on Sunday to participate in person while Touro College students joined by videoconference. The group from Utah will spend this week learning about the impact of the water crisis, documenting stories from residents, touring the city, volunteering, and examining the social and political issues tied with the crisis.
The virtual town hall provided a unique venue for students to offer questions and facilitate thoughtful discussion about the larger picture of the water crisis involving wide-ranging social, economic, and political aspects that affect Flint residents and their quality of life. UM-Flint social work chair Otrude Moyo, along with social work lecturers Kasie White and Todd Womack, facilitated the student-led discussion.
UM-Flint social work students discussed the government's lack of urgency in fixing the water problem and replacing pipes in a cost-effective way for Flint residents whose trust in their government has been lost.
Students and faculty members talked about the ways in which the issues of class, poverty, and race override the water crisis and complicate the solution process. They discussed the concern that long-term solutions intended by outsiders and policymakers to build up Flint may impact the city in ways that do not put Flint residents first and that especially hurt vulnerable populations.
"Flint residents are so resilient and they really value the community but it gets downplayed because of violence and the loss of jobs," said Kasie White, UM-Flint social work field instruction director and Flint resident. "They aren't given the credibility of understanding their own experiences."
The students from the University of Utah and Touro College expressed sadness and concern for the children affected by lead exposure, as well as the burden on families, and noted inconsistencies in media portrayals of the current state of the water crisis. They want to generate more support for the Flint community through social media and an international lens.
Social work faculty and students from all three institutions would like to see the conversation continue. "This has been very beneficial for us just to give voice to this," Womack told those in attendance. "This has inspired and encouraged us."
Contact University Communications & Marketing with comments, questions, or story ideas.