Reopened UM-Flint Ice Rink Had 'Incredible' First Winter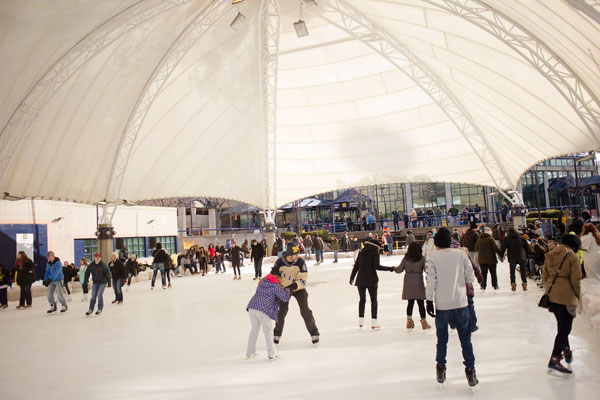 It was a historic winter for UM-Flint—and Flint itself.
After 25 years, the University of Michigan-Flint did what some thought would never be done: It reopened the downtown Flint ice rink. The reaction was swift and immediate: Hundreds came to the grand opening festivities and it continued to draw crowds throughout the winter.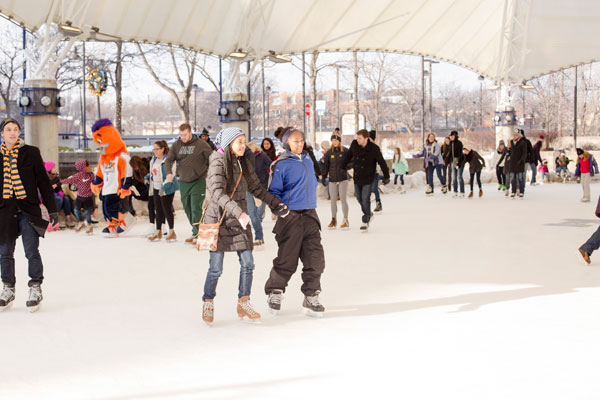 "As we continue to find ways to enhance campus, opening this rink is a simple way to have dramatic impact," UM-Flint Chancellor Susan Borrego said in December when announcing the reopening of the rink.
"We know as a university that we must be an academically excellent institution and also offer a thriving, diverse student experience. As an anchor institution in downtown Flint, our campus success and our community success are inherently tied to one another. We are proud to be partners, working together to enhance both our campus and our community."
Throughout the year students as well as community members could be found enjoying the rink, nestled right along downtown Saginaw Street next to the UM-Flint pavilion. The rink is, and will continue to be, welcoming to all, as the Crystal Fieldhouse offered a skate rental program for anyone dropping in or passing by without skates.
For one student, in just one year, going to the rink became a tradition.
Twice a week this winter, DaKeitha Bennett, a UM-Flint graduate student and Event and Building Services employee, worked at the newly re-opened university ice rink Wednesday nights and Saturdays.
Part of her new tradition was listening to happy skaters, who were pleased the rink was back.
"I had countless people tell me how happy they were that the rink was open and many who had skated at the rink when it was opened before who were really glad to be there again," Bennett said. "There were so many people who came every time the rink was open and did not miss any days during the season. It was incredible to see how happy people were to be able to have the rink up and running again in our city."
The rink first opened in 1985 as part of the Water Street Pavilion. The rink closed before the University announced it would take ownership of the adjacent building, which is now the University Pavilion.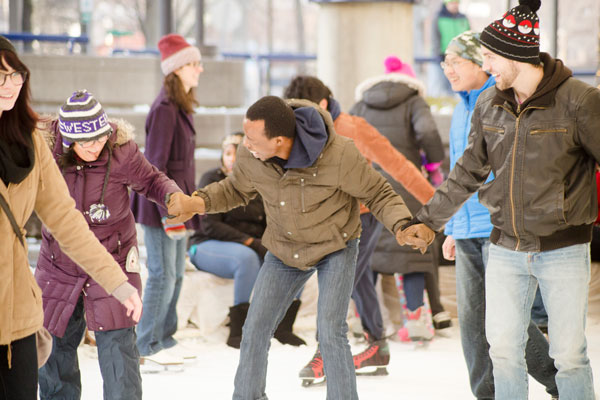 Theresa Landis, director of the UM-Flint Recreation Center, said she was pleased to see people take advantage of the rink.
"I usually see people move indoors each winter to exercise and play sports. It was very inspiring to see so many people using the rink to be physically active outdoors," Landis said. "Ice skating gave them another exercise option while enjoying our Michigan winter."
The rink opened Jan. 2 with support from both Kettering University and the Hagerman Foundation. It hosted free open skating Wednesdays, Saturdays, and Sundays and drew faculty, staff, students, and community members. The rink averaged more than 180 skaters every Saturday through early March when it closed because of warm weather.
"We rented 706 pairs of skates this first season," Landis said. "And that doesn't count the many individuals who brought their own. I was pleasantly surprised by the number of people who had their own skates," Landis said. The university used the rink during other hours, as well, including a Student Government sponsored Valentine's Day Skate and an intramural Broomball Tournament. It also succeeded in drawing groups and families, Landis said.
"We were thrilled by the number of families who came out to the open community skate times. Many of the adults who brought their children to skate told stories about how they skated on the rink when they themselves were children," she said.
Bennett, born and raised in Flint, said she is glad the rink has returned.
"I got the opportunity to see how much it meant to the people of our community," she said. "I think the ice rink is a great resource for the community."
---
Check out UM-Flint's Facebook photo gallery of the ice rink's first winter in 25 years.
Contact University Communications & Marketing with comments, questions, or story ideas.