UM-Flint Education Graduate Students Celebrate Reading Center Success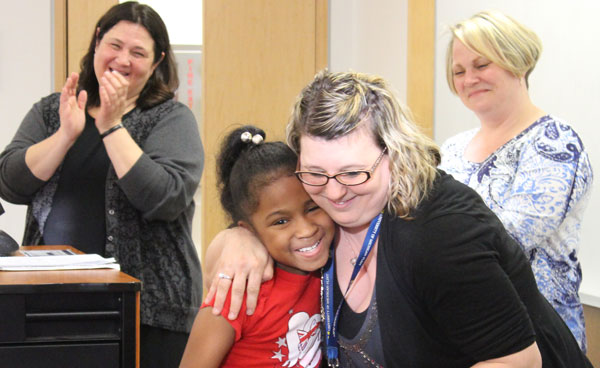 Five graduate students in the University of Michigan-Flint's master's in literacy arts program gathered recently at French Hall to celebrate the accomplishments of the children they have been working with since January in the Reading Center.
As part of their coursework in EDR 646 Literacy Assessment in Elementary/Middle School, the graduate students, who are current practicing teachers, were matched with two kids from schools in the Flint area to assess their reading levels, then work with them on reading skills throughout the semester.
Supporting the goals of each child required schedule changes and sacrificing time for parents and caregivers who transported them to the UM-Flint campus each week. Some of the children entered the program as struggling readers while others were already competent readers wanting to boost their reading level and broaden their interest in different topics.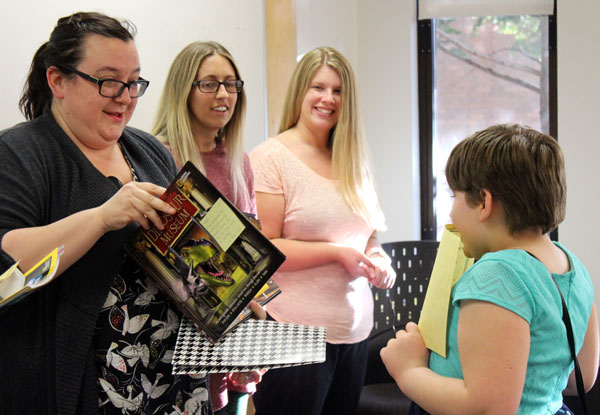 Graduate student Cheryl Henige, who teaches at the Early Childhood Development Center, said the education department's Reading Center program gave her and her fellow graduate students an opportunity to apply reading assessment tools and other teaching strategies they learned in class.
"We talk about best practices for kids and yet this is a chance for us to actually learn like they do," Henige said. "It is a deep assessment and it provides insight into what a child hasn't quite grasped, like if they are struggling with sounding things out or blending sounds."
The graduate students agreed that meeting individually with their students for nine weeks gave them a golden opportunity to better understand the thinking process of the young readers over an extended period of time—something these graduate students do not normally have enough time to do as busy classroom teachers.
During the celebration, associate professor Suzanne Knezek and her literacy graduate students praised the children for their accomplishments and gave each a brand new book. When Knezek asked if any of the children wanted to come up front to read aloud to the group, Jewel Brobst and Colin Thomas readily volunteered. Their pure joy for reading was evident in every word and page turn.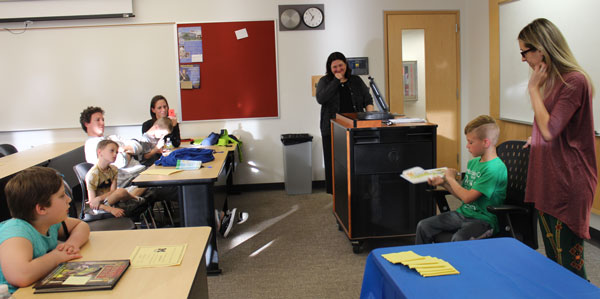 Colin's dad, Neil Johnson of Fenton, said the Reading Center program has been amazing for his son. Before the celebration, Colin would have avoided an invitation to read in front of a group.
"He had a fluency problem," Johnson said. "We've seen a dramatic increase in his speaking. He loves to read now and his confidence has increased. This program is great for the community."
The Reading Center was established in 2000 under the leadership of Mary Jo Finney, education department chair, and operates within the School of Education & Human Services.
"The feedback from teachers is promising," Finney said. "They consistently report increased interest in reading among these children and increased reading scores."
Len Thomas and his wife, Sharon, endowed the Reading Center Fund with a $10K gift in 2006 and have also contributed several in-kind donations to enhance the Reading Center Library, including framed cross stitch work that Len created. The library has a collection of children's literature, comfortable sitting areas, and an observation room. In addition to the winter reading program, the Reading Center also hosts a popular summer writing camp at UM-Flint.
"This is a very special program for us," Len said during the celebration. "We felt very strongly about a tie to the education community."
Contact University Communications & Marketing with comments, questions, or story ideas.