UM-Flint Graduate Student to Launch Flint Podcasting Venture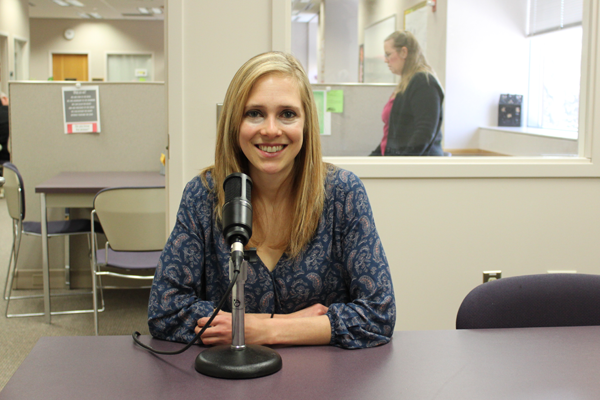 Throughout her UM-Flint career, Stacie Scherman has embraced a wide variety of professional and academic ventures. She earned her business undergraduate degree in 2007 and a graduate degree in liberal studies in 2014. This May, she's slated to finish her graduate degree in English. Scherman started a Humanities Club, is editor-in-chief of the university's literary magazine Qua, and is president of the UM-Flint branch of Sigma Tau Delta, an English honor society.
During the same period of time she's also helped with operations at her father's business, Flint Distributing Company, and has written for East Village Magazine.
With graduation approaching, Scherman has found a way to merge her multiple skillsets with her passion for Flint. And it's been her experiences at UM-Flint that made it possible.
Scherman is starting a podcasting venture this summer, which will feature podcasts based on Flint, by those in Flint, or those originally from Flint. It has a working name of Flint Podcasting Company.
"That's what I love about the podcasting thing," Scherman said. "Everything is coming together, the journalism work I'm doing, everything I've been doing on campus, my business experience, getting involved with Flint, and wanting to do something for Flint."
Scherman won first place in the Flint edition of the GreenLight Business Model Competition, which earned her $5,000 in seed money. She'll use this to help buy equipment and prepare her recording studio on Fenton Road in Flint. Her family already owned the studio but was not using the space.
This month, Scherman's podcasting venture took home second place in UM-Flint's Business Plan Competition, which is sponsored by the School of Management and the Hagerman Center for Entrepreneurship & Innovation. She earned $5,000 for Flint Podcasting Company with her second place showing.
The venture will feature several related services, Scherman said. It will have a studio, in which original Flint-centric podcasts will be produced. Others will be able to rent out the space, use editing software, and learn about the industry via workshops. Scherman plans on having a website, which will be the central hub for a variety of Flint-focused podcasts.
"It gives them a platform for their voice," she said.
And she plans on recording podcasts live at various community sites.
"I see this as something that can really positively benefit the community and support the community," she said.
Scherman hopes to get the studio opened in June, followed by the website and podcasts this summer. She said the confidence, connections, and skills she's developed at UM-Flint were crucial in her taking this chance.
"It definitely would not have happened without these experiences," Scherman said.
Katie Curnow, the UM-Flint staff advisor to Qua, has worked extensively with Scherman the last three years.
"She does a good job at giving people the tools to do their jobs," Curnow said. "She gives people space to be successful. She's not hovering over them."
Curnow said Scherman excels at merging ideas and action, and highly values giving people outlets to tell their own stories.
"This is the logical next step," Curnow said.
Contact University Communications & Marketing with comments, questions, or story ideas.