Angela Y. Davis Delivers Inspiring Public Lecture at UM-Flint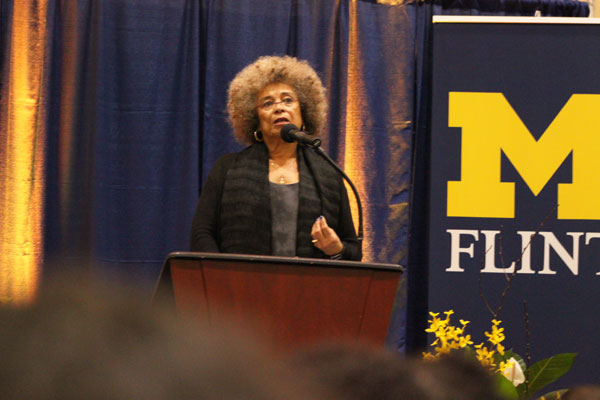 DaShawn Tanksley traveled from Detroit Tuesday to hear social justice activist and educator Angela Y. Davis give a University of Michigan-Flint sponsored public lecture at the Riverfront Banquet Center.
Tanksley, an AmeriCorps and Public Allies member, was "intrigued" and "amazed" by the life story of Davis, who is UM-Flint's 2015-2016 Myron and Margaret Winegarden Visiting Professor.
"It was good to come here and learn about everything she had done. I was so happy to be here," Tanskley said.
Her spirited response was mirrored by hundreds who showed up to the lecture and gave Davis several standing ovations. The lecture was the first of multiple events Davis will present on campus this week, including an open forum for University of Michigan faculty on Wednesday and a UM-Flint student lecture Thursday.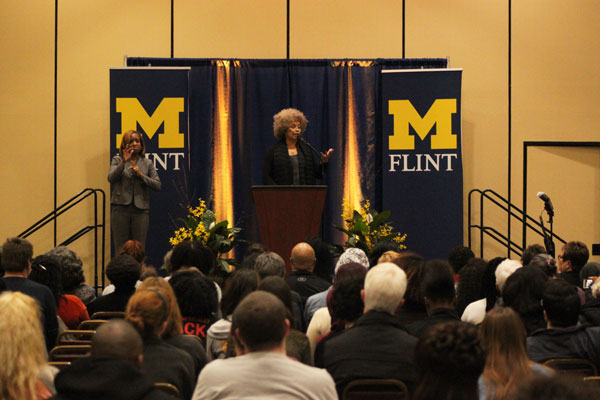 Davis is a Distinquished Professor Emerita of History of Consciousness and Feminist Studies at the University of California, Santa Cruz and the author of nine books. She is a founding member of Critical Resistance, a national organization focused on the dismantling of the prison industrial complex. She is affiliated with Sisters Inside, an Australian-based organization that works in solidarity with women in prison.
At Tuesday's event, Davis focused on a wide variety of interconnected social justice issues, including the feminist influence on various quests for justice, such as the Black Lives Matter movement and other causes across the globe.
She discussed the expanding approach of current movements to connect various issues like racism, sexism, discrimination against transgender individuals, and structural issues related to police violence and the prison industrial complex.
"Student activists are also community activists," Davis said.
During a question and answer session, Davis reiterated her message that power to make changes needs to come from community movements more than the influence of an individual.
"Regardless of who is elected, we have to build our movements," she said.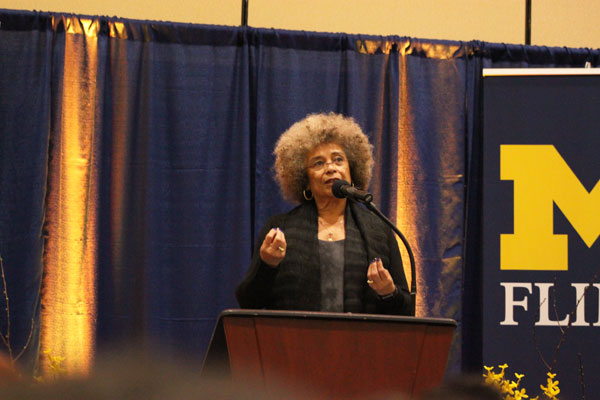 Tanksley said she was inspired to continue her community work and said she was glad UM-Flint opened up her Davis' visit to the broader community.
"I think it is really a great idea," Tanksley said about the public forum. "Not everyone gets to hear an activist speak, a feminist activist. I thought it was amazing to have that opportunity."
Contact University Communications & Marketing with comments, questions, or story ideas.