Next UM-Flint Common Read Book is Ta-Nehisi Coates' "Between The World and Me"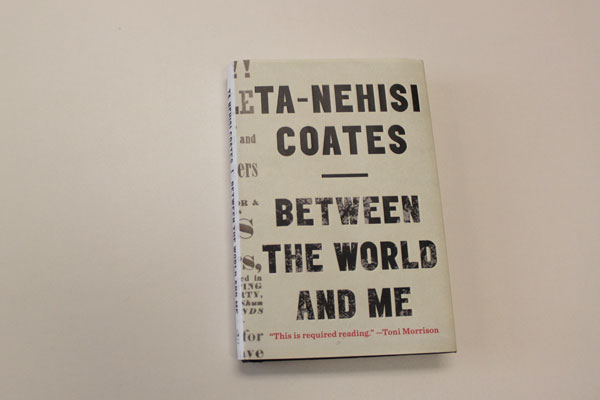 The University of Michigan-Flint's "Common Read" book has been chosen for 2016-2017.
Between The World and Me by Ta-Nehisi Coates has been selected, announced the Common Read committee and UM-Flint Provost and Vice Chancellor for Academic Affairs Douglas Knerr.
Common Read is an annual project in which students, faculty, and staff read the same book and use it as the basis for discussion and inquiry.
Between the World and Me won the National Book Award in 2015. The citation reads:
"Between The World and Me is a brutally honest portrayal of the plight of the African-American male in this country. Composed as a letter to his adolescent son, Ta-Nehisi Coates writes with chilling bleakness and precision about racism in America. This is no simple account of racism, but rather a concise attack on a system which has consistently rendered black lives worthless. Incorporating history and personal memoir, Coates has succeeded in creating an essential text for any thinking American today."
Peggy Kahn, Professor of Political Science at UM-Flint, and co-chair of Common Read, said Coates "provides an account of his educational awakening through his wide and deep reading and relationships at Howard University."
Coates is unavailable as a speaker, but several events will be planned based on the book and the themes it discusses.
"We hope it will speak to students about the possibility of finding and developing themselves and decoding the social world through reading and higher education," Kahn said. "It is the sort of book that students can read independently, that fits into many of our courses, and that suggests several types of university-based events and presentations. The writing is lyrical and poignant and the book is relatively short."
Past Common Read titles at UM-Flint include:
2011-2012: Brother, I'm Dying by Edwidge Danticat
2012-2013: The Immortal Life of Henrietta Lacks by Rebecca Skloot
2013-2014: The Submission by Amy Waldman
2014-2015: Fire in the Ashes: Twenty-five Years Among the Poorest Children in America by Jonathan Kozol
2015-2016: Dead Man Walking: An Eyewitness Account of the Death Penalty in the United States by Sister Helen Prejean
Contact University Communications & Marketing with comments, questions, or story ideas.