UM-Flint Collaborates with Community to Boost Water Bottle Recycling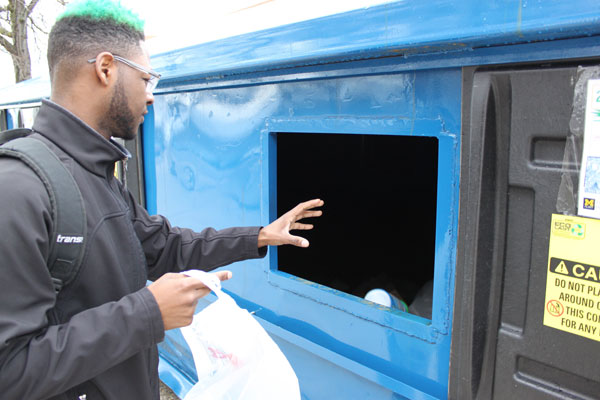 As work to address Flint's water emergency is underway, the new issue emerges of what to do with the millions of used water bottles floating around in the community.
According to the state of Michigan's Joint Information Center, nearly 395,000 cases of water bottles have been distributed to the community through official channels. At 24 to 30 bottles in a case, that is more than 9.5 million bottles out in the community, and that number doesn't take into account the bottles provided through other channels.
To help get those plastic bottles into recycling bins and avoid the landfill, students at the University of Michigan Flint—along with students from Kettering University, Mott Community College and Baker College—are organizing a community recycling challenge for the month of March.
"It is encouraging to see students from each campus engaging with one another to make a difference within the Flint community by promoting recycling and overall waste reduction," says Brandon Eggleston, UM-Flint student and intern with the schools Department of Environment, Health and Safety.
In addition, UM-Flint is encouraging the use of reusable water bottles on campus as all drinking fountains and water bottle refill stations have been equipped with lead-safe water filters.
Each campus has at least one dumpster-size recycling bin available for collecting used plastic bottles.
Students, faculty, staff, and community members are encouraged to bring clean plastic bottles and other plastic recyclables (#1-7) to the UM-Flint collection dumpster near Parking Lot A off Mill St. near Circle Drive.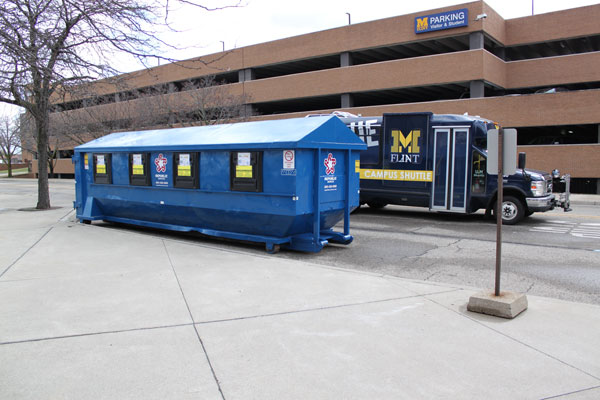 Since 2010, the schools have participated in an annual recycling competition to see which institution can generate the most recycling in the month of March. Instead of completing against each other, the focus this year is to see how much they can collect together.
"With all that is going on in Flint due to the water, we thought it best to work together in a combined recycling effort," says Eggleston.
"Our goal is to collect as many plastic bottles as possible, and to increase awareness among the community of recycling while increasing the number of people in Flint who use curbside recycling service."
Recycling is a newer practice for the community with the city having introduced the curbside residential recycling service in 2013. Prior to that, recycling occurred through neighborhood groups and pilot programs, but took a 12-year hiatus starting in 2001 due to budget cuts.
Through a contract with Republic Services, the city's designated trash and recycling collector, biweekly curbside collection of recyclables is available to Flint residents with weekly trash collection—but thousands of households do not participate in the recycling program and need someplace to recycle.
The students also are planning several community discussions in locations off campus where they will share information on the importance of recycling and waste diversion, and encourage sign up for curbside recycling. Dates and details for the community discussions will be posted online at http://fuelumflint.wix.com/fuel-umflint. Residents with weekly curbside trash collection are encouraged to call Republic Services at 800-438-0966 to arrange for curbside recycling.
In addition to these efforts, UM-Flint staff members are participating in a local recycling committee that meets on a regular basis.
---
Story by Dana Elger
U-M Public Affairs
Contact University Communications & Marketing with comments, questions, or story ideas.