Water Crisis Inspires UM-Flint Student and Alumna's "Bottled Emotions"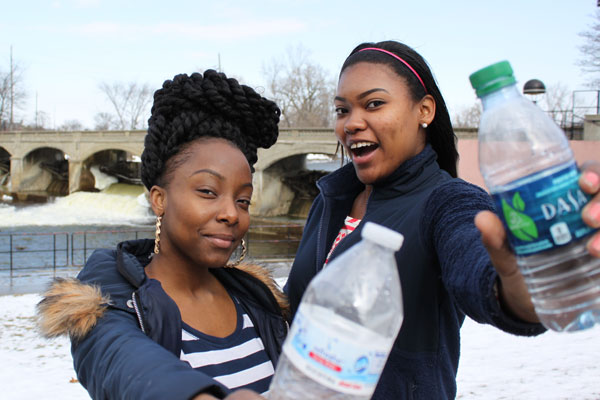 A UM-Flint student and an alumna have teamed up for a creative expression project on the Flint water crisis using water bottles and caps.
UM-Flint senior Rhonda Jones often expresses herself artistically by drawing and painting. But the studio art major decided recently to push herself in new directions as her response to the water crisis.
Jones has been collecting water bottle caps this semester to create a large mural that focuses on the water issue. She has teamed up with alumna Brittini Ward who will create an art installation with water bottles. Together, their art initiatives are coined Bottled Emotions.
"Rather than doing a painting, I wanted to do something extreme because the Flint water crisis is an extreme matter," Jones said.
Jones and Ward have been collecting the bottles and caps individually, and at three drop off spots on campus. Boxes have been placed at the Riverfront Residence Hall, the First Street Residence Hall, and in the student loft, located on the 3rd floor of the University Center.
Thanks to the participation of the university community, and other contributions, Jones has already collected 3,500 bottle caps. The caps will be affixed to a mural in a design being developed by her.
She hopes to hang the nine feet high by eleven feet wide mural at Riverfront by the end of this semester.  Jones is a resident assistant at Riverfront Residence Hall.
The duo see this project as a way to create and foster collaboration with the community. Jones hopes to enlist art students from area Flint schools to participate with the assembly of the mural.
"It's a challenge taking on this project because it is completely unrelated to my current classes but I'm always excited and ready for a challenge," Jones said.
Ward graduated in May, 2015, with a degree in communication. She specializes in graphic design but wanted to take on a new challenge with the art installation. She is developing the details of the design and location for her water bottle project.
"Just as you go to a museum and see different artifacts based on historical events, this water crisis is a historical event. I need to create for history," Ward said.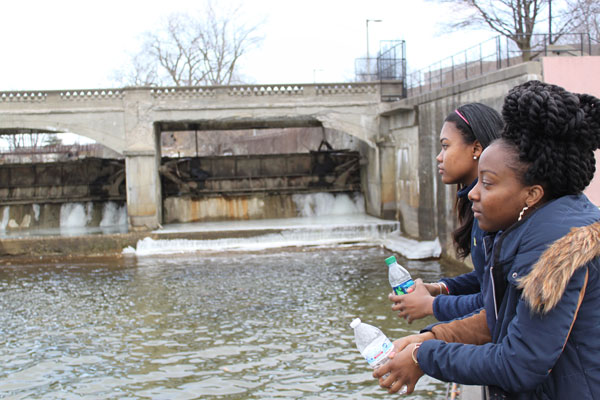 Both Ward and Jones work in the UM-Flint Office of Educational Opportunity Initiatives, and each came up with their project independently. But when they discussed it, the duo decided to merge the work into one initiative.
Jones said the initiative creates further bonds within the university community.
"It's definitely promoting recycling and painting a bigger picture with this," she said.
The Theatre and Dance Department is also collecting water bottles to be used for artistic expression. It is asking for bottles to be dropped off by March 11 at a container in the theatre lobby connected to French Hall. They will be used in a dance piece in The Spring Dance Concert in April.
Contact University Communications & Marketing with comments, questions, or story ideas.