A Michigan-Flint Wolverine Teaching in Wolverine, Michigan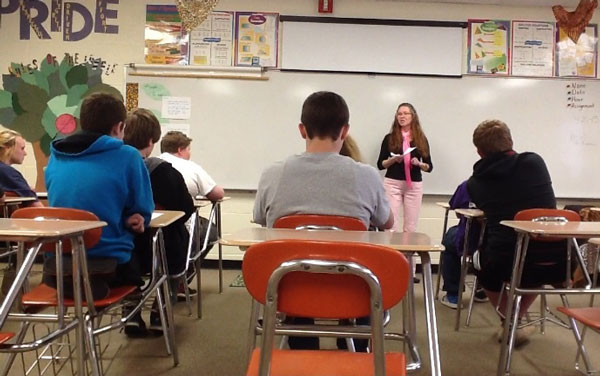 Now in her 22nd year of teaching fifth through eighth graders at Wolverine Community Schools in northern Michigan, Kristine Eaton Kramer is still glad she chose a challenging career in education.
Kristine received her B.S. in Elementary Education from the University of Michigan-Flint in 1991, including three minors in mathematics, language arts, and social sciences.
Prior to college, she was valedictorian of her class at Bendle High School in Burton. Her mother worked at the Flint Post Office and her father worked at the Chevy manufacturing plant downtown. Becoming a teacher was something Kristine always wanted to do.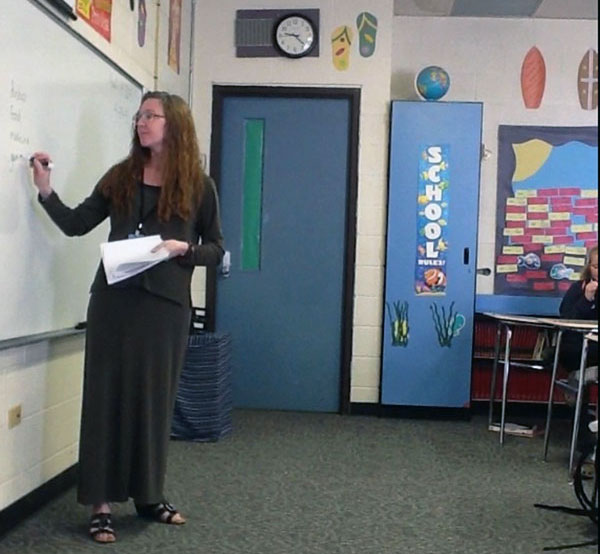 "I loved going to UM-Flint," she said. She appreciated the safe campus, small class sizes offered, and the convenience of being close to home.
Kristine completed her student teaching at schools in Flint and Goodrich. Following graduation, she worked as a substitute teacher for three years and also tutored students in math and language arts, obtaining valuable experience in the field.
At Wolverine, a rural northern Michigan school district, she enjoys teaching common core math to middle school students using visuals, area models, and other resources.
"I can show them a picture for almost everything I teach in math," she said. "I tell them, 'If you can see or draw it, it might help you out.'"
Kristine sees herself as a strict teacher. Consistent classroom structure, combined with an enthusiastic and caring approach toward her students, helps her to manage her classes effectively. "I have very few discipline problems because my expectations are high," she said. "The greatest challenge is keeping the kids engaged."
In addition to teaching, she enjoys  building supportive relationships with students outside of the classroom through various school activities, including being student council advisor for five years, class advisor for 16 years, member of the School Improvement Team, NHS Council Advisory Committee member, as well as cheerleading and dance coach for five years. In addition, she served as president of the Wolverine Education Association for six years.
Her advice for college students considering a career in teaching? "Find the right level of kids you want to work with because it makes a huge difference for them and for your own enjoyment," she said.
Contact University Communications & Marketing with comments, questions, or story ideas.