UM-Flint Chancellor Delivers Welcome at Democratic Debate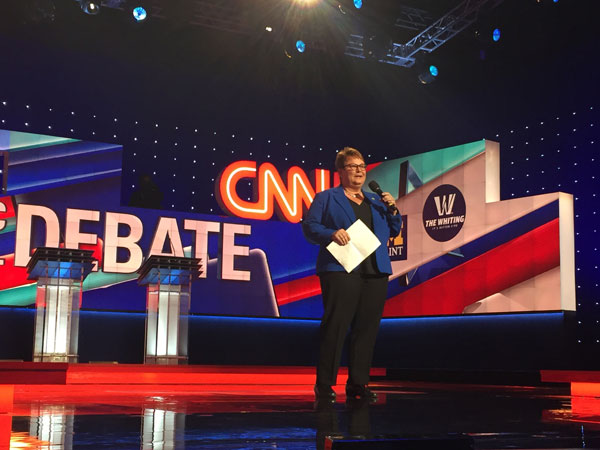 UM-Flint Chancellor Susan E. Borrego delivered these welcoming remarks to attendees of the Democratic Debate at Flint's Whiting Auditorium Sunday evening.
"Good evening, I am delighted to be here tonight and pleased that the University of Michigan-Flint was able to be a part of the events surrounding this Democratic Presidential Debate.
This has been an amazing experience for our students, faculty and staff. Students were able to work behind the scenes as interns and others worked in a variety of roles setting up for the events on campus.
You may not know that the CNN Situation Room is being broadcast out of the Frances Willson Thompson Library on campus and the Spin Room with over 500 journalists is set up in the recreation center. And all that set-up took a village!
The mission of UM-Flint is to provide access to top quality degrees and to enhance the community we live in. For 60 years, we have been doing just that and we plan to for decades into the future. For nearly 10,000 faculty, staff, students and their families:
This is our home. We live and work here, play and invest here. And, we are proud to be a part of a community with such heart and resilience.
Flint has played an important role in the history of this country, we should play an important role in the future… we are not unlike many post-industrial cities across this country, and we cannot simply give up on a community.
We have the opportunity—as the world watches—to create our future.
As the anchor university in Flint, we are committed to partnering to do just that.
To my neighbors and friends in the room, I assure you that the University of Michigan-Flint will continue to support and invest in Flint and the region: 60 percent of our students come from Genesee County and nearly 80 percent of our graduates stay in Michigan. We contribute nearly $80 million dollars to this economy annually and we enhance the quality of life through research and service.
To those of you visiting, come on back. What I hear most often from visitors to Flint is how amazing the people are and, "Wow, this isn't what I expected." Now that you've been here, when you get back to wherever you are going, tell your friends you found a great place to visit, to start a business, to attend a university, or even to move to.
Thanks and Go Blue!!"
Contact University Communications & Marketing with comments, questions, or story ideas.