New UM-Flint Research Shows Location of Lead Pipes in Flint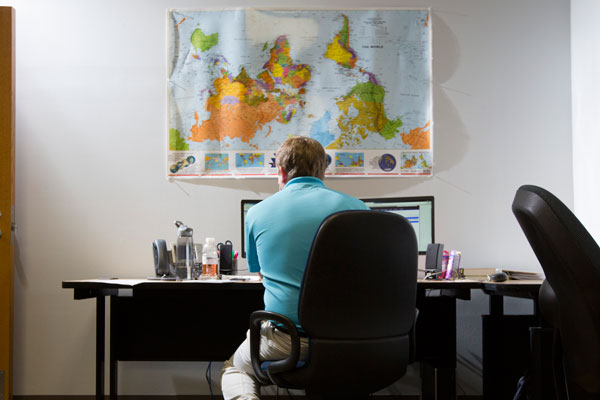 Critically important research that identifies and maps all known locations of lead pipes in the City of Flint based on available records has been completed and turned over to Flint Mayor Dr. Karen Weaver by the University of Michigan-Flint.
Mayor Weaver joined University of Michigan-Flint professor Dr. Marty Kaufman Monday morning at City Hall to present the results. The project was completed by the Geographic Information Systems Center at the University of Michigan-Flint under the direction of Dr. Kaufman, chair of the Earth and Resource Science Department.
The research analyzed the City of Flint's hand-written records, paper maps, and scanned images to create a complete digital database of all the information available so far about lead service pipes used Flint.
While the project is a complete compilation of all available data, the records—which were compiled from a 1984 survey—did not always indicate the types of pipes used. There are approximately 13,000 parcels in which the type of pipe was not identified. Of those, roughly 11,000 are residential properties.
Site visits may be required to confirm the presence of lead pipes at high-risk locations that include homes whose residents include children under age 6, children with elevated blood lead levels, pregnant women, senior citizens, people with compromised immune systems, and households where water tests indicate high levels of lead at the tap and residential day care facilities. Those pipes will then be targeted for removal.
Dr. Kaufman's research of City of Flint records shows:
There are 56,000 parcels, homes and businesses in the City of Flint.
The average age of homes in Flint is 74 years old. More than 23,000 homes were built before 1950.
There are 4,376 known lead service pipes in the City of Flint, according to the analysis of historic records. Based on analysis of missing data, that leaves the location of some lead service lines unknown. Dr. Kaufman estimates an additional 4,000-plus service lines in the City of Flint may also contain lead—bringing the total estimate to more than 8,000 lead service lines in the city of Flint.
This information is part of the data Flint officials will use to help prioritize where to begin replacing pipes in Flint as work begins on Mayor Weaver's Fast Start initiative. Under Fast Start, the city will work with the Lansing Board of Water and Light to start the process of removing lead service lines connecting water mains to the water meters on people's homes to improve water quality, restore resident's trust that the water coming from their taps is safe to consume, and repair damage done to the city's infrastructure.
Mayor Weaver says the data will be valuable as the city moves forward with her Fast Start lead service line replacement plan.
"We can't wait any longer to get the lead out of Flint. Removing the pipes is Job One. If we do not replace them, this city cannot recover from this manmade disaster. I thank Dr. Kaufman and the researchers at UM-Flint for their efforts on this project. Phase one of my Fast Start plan to remove and replace lead pipes is focused on high-risk households, and this research will help us identify where they are," said Mayor Weaver.
UM-Flint Chancellor Susan E. Borrego also commented on the importance of mapping the city's lead pipes.
"This research is an important step toward restoring safe water for our community. It is one example of the University of Michigan-Flint's commitment to helping our community work toward short- and long-term solutions," said Chancellor Borrego. "I appreciate the dedication of Dr. Kaufman and many other UM-Flint faculty to providing research that benefits our community."
The University of Michigan-Flint and its partners—the Lansing Board of Water and Light, state and federal agencies—will continue to analyze the newly available data on lead service pipes by combining this data with information on water and blood lead level testing results. This will allow for the creation of a risk assessment model for all city property parcels, with an initial focus on the missing parcels, to optimize the work of the crews in the field removing lead pipes. The data and research are available for download at umflint.edu/gis.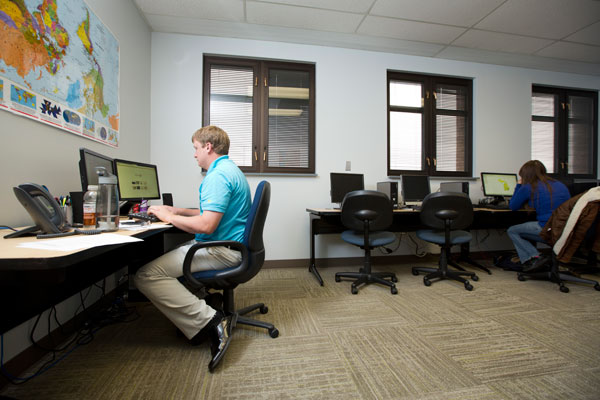 Kaufman—an expert in water resources, environmental risk assessment, and Geographic Information Systems—said he hopes that the Flint water crisis serves as a wakeup call to government agencies and water utilities. "Events here and in other cities clearly demonstrate that it would be more productive and protective of public health for agencies to conditionally accept findings about water quality reported by citizens and scientists," Kaufman said. "Then, they could jointly explore the data and research to establish the true situation." The University of Michigan-Flint approached the City of Flint in October 2015 to volunteer the services of its GIS Center to map the city's service pipes and identify the type of pipes used. City officials formally agreed to the project on January 7, and the full team of 10 researchers and assistants was assembled and began work by January 18. The completed research was delivered to the City of Flint on February 12.
Troy Rosencrants, GIS Center manager, supervised the day-to-day efforts of the team. Additional expertise was provided by Dr. Greg Rybarczyk, UM-Flint associate professor of Earth and Resource Science, who is a GIS expert with a specialty in urban planning and spatial analysis.
Contact University Communications & Marketing with comments, questions, or story ideas.