Interactive UM-Flint Map Provides Campus Water Testing Results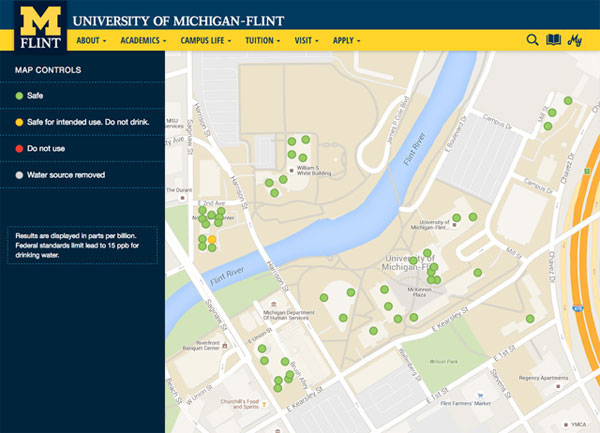 The University of Michigan-Flint has launched an interactive map that provides up-to-date lead testing results on campus. The map indicates testing sites, and provides the latest data for each site. It includes the type of fixture, testing results, and location within the facility.
"UM-Flint continues to take all necessary measures to ensure drinking water in all campus facilities is safe, filtered and tested," Chancellor Susan E. Borrego said in an e-mail to the university community.
The most recent testing was conducted Feb. 2-4, 2016.
"As always, testing is conducted and analyzed by an expert, independent water consultant and laboratory," Borrego said. "Their laboratory reports indicate that the majority of testing locations on campus showed non-detectable levels of lead—even when filters were removed. One location exceeded the federal standard for safe drinking water, but this was in a restroom sink that is appropriately labeled for hand washing only. Every other test showed lead levels not exceeding 5 parts per billion for filtered and unfiltered water—far below the federal drinking water standard for 15 parts per billion."
The university continues to have water filters and replacement cartridges available for all students, faculty and staff living in the city.
The map, Borrego said, is part of the university's "ongoing commitment to keeping our campus community informed."
The map is located on the campus water information page, which includes campus and community resources, campus filtered water locations, testing results, frequently asked questions, and campus water communications.
"The University of Michigan-Flint also remains actively involved in helping our community," Borrego said in her e-mail. "In the midst of this public health crisis, we will continue to contribute powerful and transformative education, research and solutions for the short- and long-term."
Contact University Communications & Marketing with comments, questions, or story ideas.