UM-Flint Teams Up with Red Cross for Water Crisis Relief Efforts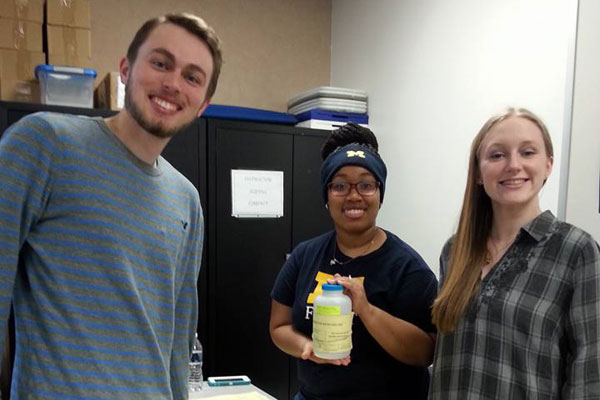 Under normal circumstances, midterms and research papers would be the biggest of Torrey Moore's concerns.
As a senior psychology major at the University of Michigan-Flint, Moore has two semesters to finish before he earns his bachelor's degree in psychology. But since the emergence of the city's water crisis, he has become most concerned with improving the living conditions for himself and those around him.
"I've lived in Flint for 15 years and I never would've thought it would come to this," he said.
Like many other UM-Flint students, staff, and faculty members, Moore sprang into action trying to find ways to volunteer, and he found an opportunity thanks to his communication and visual arts professor, Anthony McGill.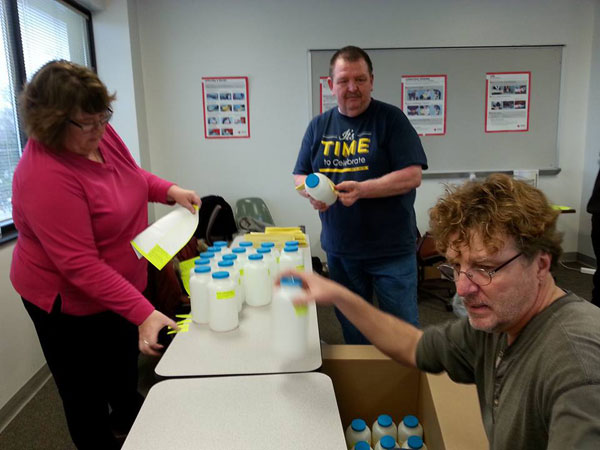 McGill is known in the Flint and Genesee County region for his civic engagement and volunteer efforts, having dedicated hundreds of hours to more than 40 nonprofit groups in the last five years alone.
"When the water crisis first hit, I wanted to find some way to contribute to help fix the problem. We searched for ways to help, but it was such chaos because everything hit hard at once. Ultimately, we got in contact with some people who set us up with some opportunities with the American Red Cross," McGill said.
Moore, McGill and about a dozen other members of the UM-Flint community spent hundreds of hours delivering water, assembling lead test kits, and organizing the Red Cross warehouse during water drop-off times.
"It was around mid-January when we started delivering water. Victoria Fryer, the volunteer services specialist at the Red Cross, organized several different projects for us and the students really worked their butts off," McGill said.
"They hand-delivered thousands of bottles of water to the people of Flint, sometimes carrying these cases several blocks in the freezing cold to get them to the people most in need. The first Saturday of February we spent an entire day assembling 9,000 lead test kits that were distributed to the fire departments throughout the city."
For Moore, the opportunity to help the people in the Flint community has been a respite, of sorts, during an otherwise trying time.
"I'm disappointed that it's gotten this far, but it's up to us to do whatever we can to help fix this problem. That comes from having pride in this city and in myself," he said.
The University of Michigan-Flint has been a leader in the efforts to help the community recover from the water crisis.
The university responded proactively as a campus, starting water quality tests in fall 2014. Water filters have been installed across campus and the university continues quarterly water testing. UM-Flint also launched a new interactive map containing recent water test results—which continue to show the University of Michigan-Flint's water is safe.
The university also hosted the first major water filter giveaway in the city. Additionally, more than 140 volunteer students, staff, and faculty members from the university's Ann Arbor, Dearborn, and Flint campuses convened at UM-Flint in January to discuss ideas for research collaborations and opportunities to work with community organizations responding to the Flint water crisis.
The university remains actively engaged with the entire Flint community to address its most immediate needs, to create solutions, and to build a strong future.
---
Story by Jeremy Allen, U-M Office of Public Affairs & Internal Communications. Photos by UM-Flint Department of Communication and Visual Arts.
Contact University Communications & Marketing with comments, questions, or story ideas.