UM-Flint Theatre & Dance Faculty Member Wins Innovation Award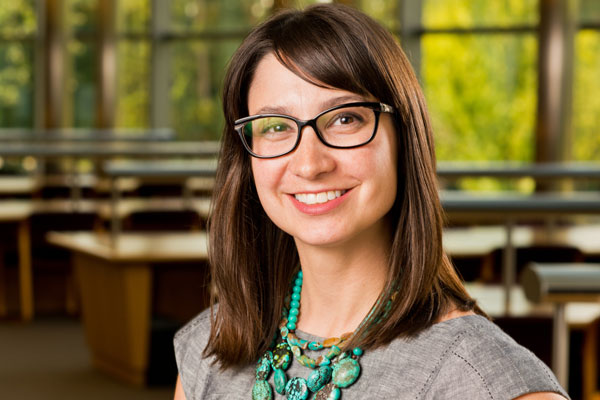 Shelby Newport—chair, associate professor, and resident costume designer for the UM-Flint Department of Theatre & Dance—is the recipient of this year's Region III Association for Theatre in Higher Education (ATHE) Innovative Teaching Award. The award was presented at the Kennedy Center American College Theatre Festival in Milwaukee, WI and recognizes Newport's use of social media in her courses.
In her application's teaching statement, Newport notes, "Using social media elements in the classroom have allowed me to open up the discussion and classroom interactions between students even before they enter the room. It has also shifted the ownership to the students; I have found that when they feel a responsibility for some of the course material, they are much more engaged."
She adds, "My hope is that students will thrive in a classroom that puts them in the passenger seat, as a navigator and co-pilot."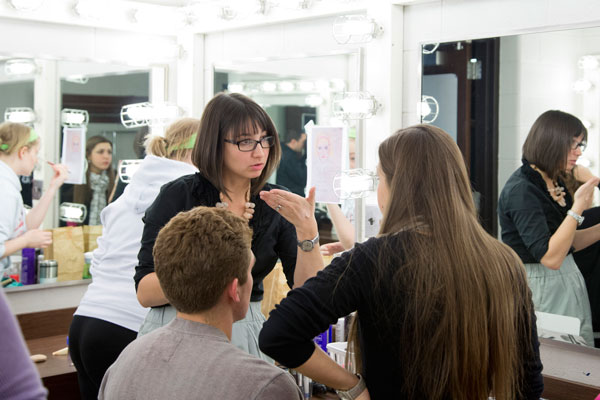 The previous department chair, associate professor William Irwin, described an example of her approach in his letter of recommendation to the selection committee: "In her Clothing and Western Culture course, all students are required to post images via Pinterest exemplifying specific characteristics of the period they are studying. Shelby skillfully uses a shared Pinterest board which students collectively submit their research/discussion images to. After projecting the Pinterest board images on the classroom screen, Shelby clicks on each student's submission for that class and asks them to speak briefly on their choice and how it exemplifies the period. This is an effective use of technology in the classroom that not only supports student learning but also in a way that is innovative, relevant, and interesting to those in her class. It also supports additional course activities, research, and enhances the provision of information and resources to students, as well as fosters interactivity and collaboration among them."
The adaptability and fluid nature of social media seems to suit her teaching philosophy. Newport says, "I accept each day as a learning experience, and realize the importance of remaining open-minded and flexible. With this in mind, I too will continue my education; seeking new opportunities, observing the teaching methods of others, taking advantage of extended learning courses, and most of all remaining prepared to grow and change."
Irwin seemed especially appreciative of the inclusive benefits of Newport's social media methods. "[Shelby] has been committed and incredibly successful in recognizing each student's capabilities while providing them with appropriate challenges without ever alienating anyone. This is a significant juggling act that requires her to possess not only an immense sensitivity to each individual's needs, but also an innovative spirit that makes her classes accessible and meaningful for all . . . Shelby has proven to be expert in integrating students' own interests and passions into the curriculum and has enabled them to flourish as learners. Going a step further, she has demonstrated a commitment to sharing her talents with her colleagues."
The UM-Flint Office of Extended Learning (OEL) has also recognized Newport's talents and willingness to share with others in her field: a new online course based on her methods and experiences will be offered to faculty beginning in February 2016.
Social Media in the College Classroom will introduce key concepts and social media tools that can be integrated into the university classroom. Faculty will learn about the benefits to students and to classroom learning when social media is thoughtfully woven into the course, rather than prohibited from the learning environment. Various social media platforms are covered and faculty will get hands on experience creating accounts and utilizing them.
Newport developed and recorded materials and the online course was created around her lectures and demonstrations. According to Katie Curnow, marketing coordinator for OEL, "[Shelby] is the creative and pedagogical force behind it."
Contact University Communications & Marketing with comments, questions, or story ideas.