Teaching in China Brings New Opportunities to UM-Flint Education Alumnus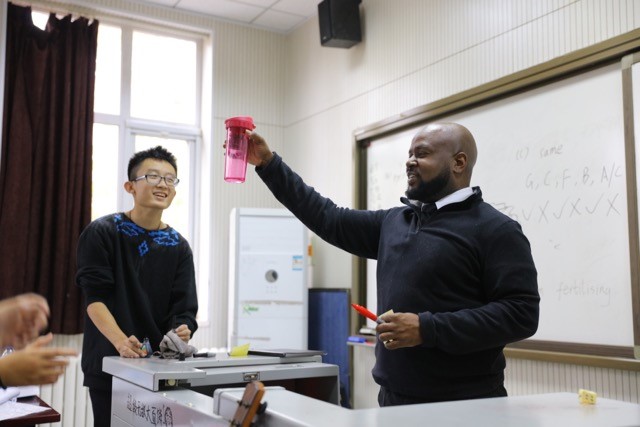 Teaching in China has turned into an incredible professional journey for University of Michigan-Flint alumnus Gerrard Allen.
A native of Lathrup Village near Detroit, Gerrard earned his Master's Degree in Education last year through UM-Flint's Education with Certification (MAC) Program and the Detroit Teacher Project.
After teaching in China for two months while in graduate school, then living in Detroit for a year, Gerrard decided to go back to China and teach English to middle and high school students at Beijing Royal School. He also leads an American History Club there.
"What is interesting here in China is the dedication to education," Gerrard said. "There are students who naturally excel and those who struggle, but here in the larger scale, you have more of a dedicated student who really looks beyond what they're learning and tries to see how this is going to prepare them for college and also their future career."
He appreciates that promising outlook that his students in China and their parents have toward the value of an education.  With that comes a greater level of respect for teachers who are viewed in a more scholarly way than what he experienced while teaching in Detroit.
"In China, education is definitely at the forefront," he said. "There aren't as many excuses for kids here to not excel in school or to not participate or produce work well. I think in America we allow our kids too many options of not trying hard or not doing their best. Here the respect levels are so much higher. Every student speaks to me and is respectable and responsible."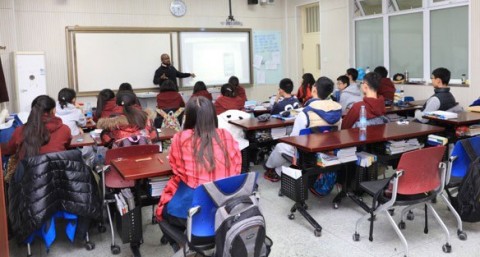 Communicating effectively and understanding cultural differences have intrigued him throughout his academic career. He graduated with a communication degree from Eastern Michigan University, minoring in English and African American studies, before pursuing his master's degree at UM-Flint.
Since his Chinese word bank is still pretty basic, Gerrard finds it difficult to talk with some students who have a limited grasp of the English language. "If I have a student who does not have a strong English level, that student and I can be at a standstill in trying to converse on the lesson plan, or if they have a question, it's hard for us to communicate back and forth. That can be challenging."
He admits his seven-year-old daughter has been able to pick up on the language a bit quicker than he has. Since Beijing Royal School includes preschool through 12th grades, she attends the same school in a different wing. "It allows her to be fully immersed and able to pick up the language and understand the culture a lot quicker," he said. "She'll definitely remember those things."
The MAC Program's emphasis on classroom management and preparation, flexibility, and reflection have given him the skills necessary to boost his success as a new teacher. The program helped him understand that controlling the classroom is necessary to create an environment that makes every student feel safe and ready to learn.
With that, he has also learned to be flexible and to adapt to classroom situations that come up unexpectedly, to eat lunch on the go, to fill in for another class when a substitute is not available, and to be ready to help students having personal struggles or conflicts with others.
In a professional sense, Gerrard has discovered that being flexible to deal with those unexpected issues during the day has helped him grow as an educator while making a greater impact on individual students, especially in urban America.
"You can have your lesson plan set and never get to touch it, even though you spent all night working on it, because a fight broke out or a kid hasn't eaten all day and it's affected him personally," Gerrard said. "Or maybe there's a hygiene issue, so there goes your lesson plan because now you're trying to find the right way to talk to this kid who's getting teased. I've experienced a lot of that in the urban setting. You never know what's going to happen in that day and you have to be prepared at all costs."
Gerrard has that special level of commitment that every teacher striving for excellence needs. He enjoys guiding students to seek their own educational journey and to navigate obstacles along the way.
As part of his own professional development, Gerrard has made a habit of reflecting on his teaching practices and encouraging his students to reflect on their learning process following a test. This has given him ideas about how to implement strategies a little better to the next class.
Reflection is one of many handy tools he developed while observing other teachers as a UM-Flint graduate student.
"The biggest thing I learned from the program is to be flexible as a teacher, to be prepared and also to have a lesson in mind in case the technology isn't working or in case a student doesn't get it or they're not prepared," he said.
Gerrard plans to eventually return to the U.S. to apply all that he has gained through the MAC program at UM-Flint, along with his experiences in China, to an American secondary education classroom.
"I thank the program for opening up this opportunity for me," he said.
Contact University Communications & Marketing with comments, questions, or story ideas.