UM-Flint's Unique Culture Leads To Unique Business Success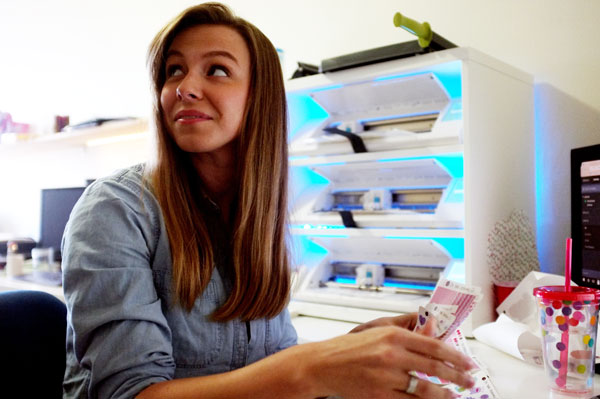 It's a story of love, success, and stickers.
Kayla Cornell was on a study abroad trip with the University of Michigan-Flint when she walked into a little shop she wished was hers. It was a small stationary shop, and the communication and marketing student thought that someday she wished she could do something like that.
It probably worked out well, then, that she was on the verge of being engaged to a guy whose passion in life is seeing people realize their entrepreneurial dreams.
Alex Benda had recently graduated from the University of Michigan-Flint with a degree in international business and management and was working in a bar while looking for a job. He told Cornell he'd help start the business, Oh Hello Stationary.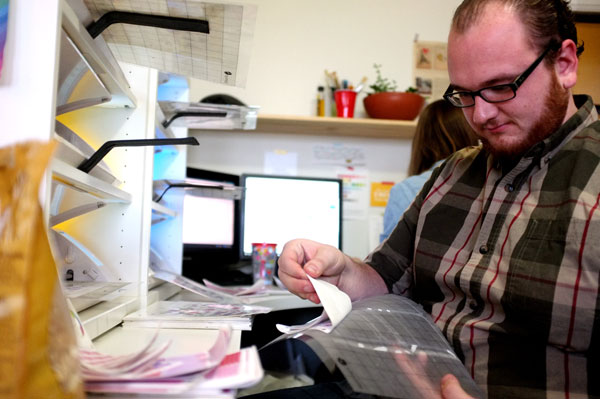 They started small, making cards they sold through the online marketplace, Etsy. Sales were good, but neither was getting rich. Cornell was working for the university's School of Education and Human Resources and Benda was still working in the bar.
But then Cornell got an idea. An avid planner, she was watching videos of people planning and noticed that many of them liked to use stickers to put in their date books. Benda came home one day to see that she was cutting out, by hand, little stickers in the shapes of pills that people could use as a reminder to take their medication.
Benda said to her, "Isn't there an easier way to do that?"
There was, Cornell said, but it cost about a hundred dollars. They weren't rich. They were a young couple starting out. A hundred dollars was a lot. But they thought maybe it would be a good investment.
Fast forward about a year. They're engaged. Both quit their jobs to keep up with the sticker business, which, in the last year, has done a quarter million dollars in sales.
It's a dream-come-true for both the stationary lover/planner and the entrepreneur who was finally able to do the things he'd told others to do with their business.
But what they've realized is that they've also created a community.
"A lot of people who plan have terrible anxiety, and so planning gives them a way to manage their anxiety," Benda said.
It wasn't something either of them knew, but now that they've tapped into the "planner" community, their business has become more meaningful than just a way to make a living.
Benda said they get letters from people every week thanking them. One woman from Sweden sent them a fondue pot. They respond to every letter.
One stood out among the rest.
"We've gotten a few cards that would break your heart," Benda said. (One woman) literally wrote, 'You saved my life.'"
The young woman suffered from extreme anxiety and panic attacks. But one day she stumbled across one of Cornell's videos (Benda was always telling small business owners to make online videos).
"When she found Kayla's videos, something happened that calmed her down. She hasn't had a panic attack in a month. When she feels a panic attack coming, she'll put in her headphones and she'll turn on one of Kayla's videos," Benda said.
Members of the online community they have created will exchange stickers they don't need anymore, or just meet up in cafes to talk and work in their planners. It gives them a sense of control over their lives—especially now that they know there are so many others who take planning so seriously, Benda said.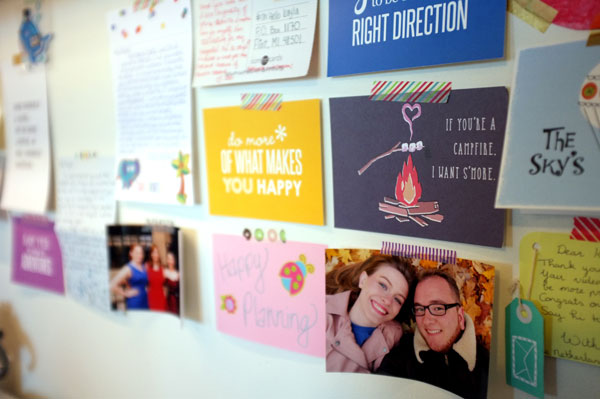 With two degrees in business and one in marketing (Benda does a lot of the behind-the-scenes work while Kayla does the marketing), the two joke that while what they learned in class is important, it was the culture of the University of Michigan-Flint that really gave them what they needed to be successful.
Both had considered going to bigger schools—going to football games, living on larger campuses—and both are glad they didn't.
"It's not the degree that was the most useful, it was UM-Flint and what we did while we were there," Benda said. "I got to be president of the entrepreneurship society at the end of my freshman year. That never would have happened at a bigger campus."
He credits one professor in particular, Dr. Michael Witt, who mentored him outside the classroom.
"The attention he gave me outside the classroom, I know I wouldn't have gotten at a larger school. That's where I really learned about entrepreneurship."
Due to his involvement with his fraternity, he was on a first-name basis with chancellors and vice chancellors. All of his professors knew his name. Things he said the close and personal culture of UM-Flint allowed.
"There's nothing wrong with what you learned, but it was the environment of the university that made a difference," he said.
Contact University Communications & Marketing with comments, questions, or story ideas.