UM-Flint Begins Free Community Course on the Flint Water Crisis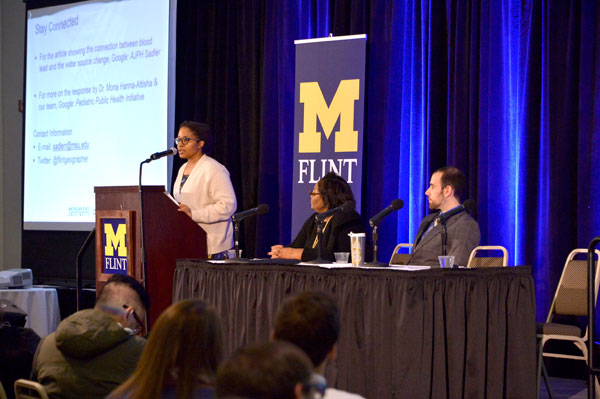 The first of the University of Michigan-Flint's classes on the Flint water crisis drew 150 people and delivered historic analysis, sometimes intense emotions, and open access to education.
The eight-week program is being offered to students as a 1-credit course, but the course is open at no cost to community members. Suzanne Selig, director of the Department of Public Health and Health Sciences, said the course fits with the mission of the University, which has an opportunity and obligation to serve its community.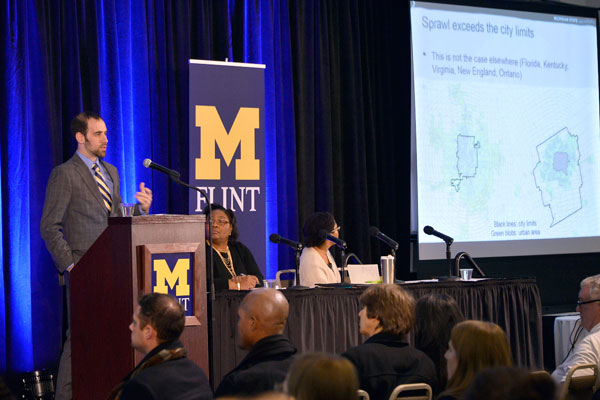 "I thought it was great to be able to have this opportunity," said Adil Mohammed, an independent health care consultant who works out of the UM-Flint Innovation Incubator. "It was a great use of the (University) space and I really liked the format—to be able to listen and ask questions."
The course each week will start with a panel discussion by leaders in the water crisis issue, followed by a question-and-answer session with those in attendance. Classes are being held in the Northbank Center.
Panelists in the first course Thursday, Jan. 21, included Richard Sadler, assistant professor of family medicine at Michigan State University and a UM-Flint alumnus; E. Yvonne Lewis, founder/CEO of the National Center for African American Health Consciousness; Nayyirah Shariff, of the Flint Democracy Defense League; and Melissa Mays, water activist with the group Water You Fighting For.
Donna Fry, dean of the School of Health Professions and Studies, called the course an example of the school's commitment to being a neutral convener.
"I think that this really exemplifies what we are trying to do to work with the community to provide an education and to problem solve together," said Dean Donna Fry.
Suzanne Selig noted the good balance of the first week's panel, which included academic and activist perspectives on the issue. A key piece of the course is to provide for bi-directional learning—in which the audience and the panel both have an opportunity to teach and learn.
The next class is 4:30-6:30 p.m. Jan. 28 and the topic is "Public Health and Water Safety."
Registration is preferred but not required for the course. For more information, go to umflint.edu/flintwatercrisis.
Contact University Communications & Marketing with comments, questions, or story ideas.