Black Male Summit Highlights Importance of UM-Flint Education Programs and Partnerships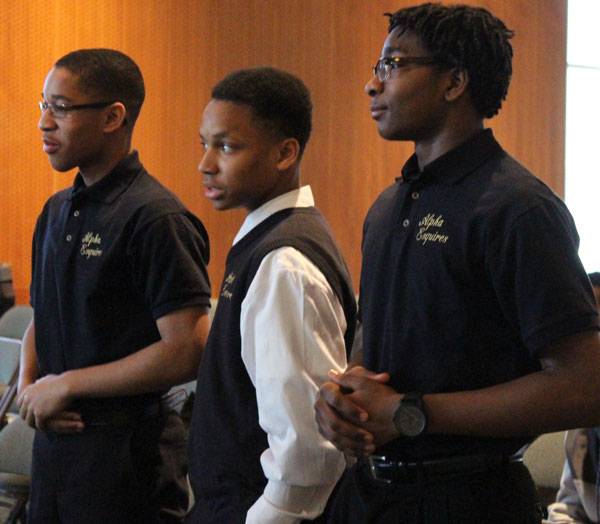 More than 30 years of experience mentoring young black students in Flint has given John Rhymes a clear picture of the major roadblocks shaped by stereotypes, peer pressure, and other social struggles that they must learn to navigate as they envision their own futures.
A retired Flint educator and school social worker, as well as former director of an after-school program in the Sylvester Broome Center in Flint, Rhymes knows that finding success involves transforming the way young black men see themselves, then guiding them to persevere all the way through high school, college, and into the competitive workforce.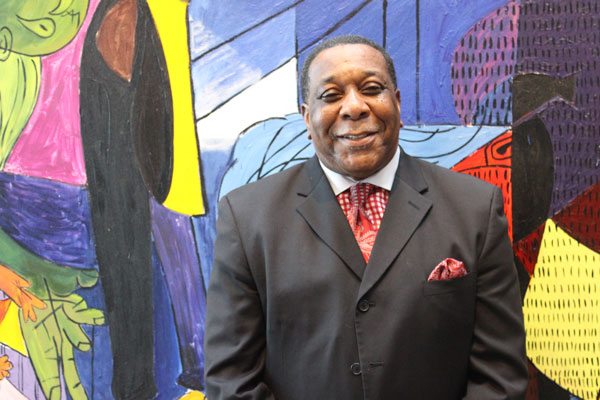 His newly formed non-profit, the Institute of RHYMES (Reaching and Helping Young Minorities Excel and Succeed) sponsored its first annual Black Male Summit last weekend at the Flint Institute of Arts with support from the University of Michigan-Flint's School of Education & Human Services and other community partners.
Richard Russell, Ed.S coordinates the STAR (Smart Teachers As Role Models) Program through UM-Flint's Education Department. "The school to prison pipeline is real and serious," he advised summit attendees. "It's important to continue your education and encourage other young brothers."
The STAR Program provides an extensive, hands-on leadership development co-curriculum for university minority students who want to teach primarily in Genesee County schools. By training minority teachers to teach in area schools, the program strives to fill relational gaps between minority youth and their teachers, and to strengthen student-teacher bonds.
"The School of Education and Human Services is deeply committed to supporting young African American men by providing multiple forms of support that lead to their increased success rates, opportunities and access to a post-secondary education," said SEHS Dean Bob Barnett.  "STAR is one of several minority student partnership programs in SEHS and is designed specifically to prepare, mentor, and train minority men for careers in elementary education."
Summit participants engaged in presentations about the efforts of Martin Luther King, Jr., Malcolm X, and other civil rights activists. They were encouraged to think about the current movement for equal rights and how they can best convey the message of the movement and make a positive impact on race relations in their own community.
They also discussed ways to define their own unique strengths and to develop their identities as they envision their lives beyond high school.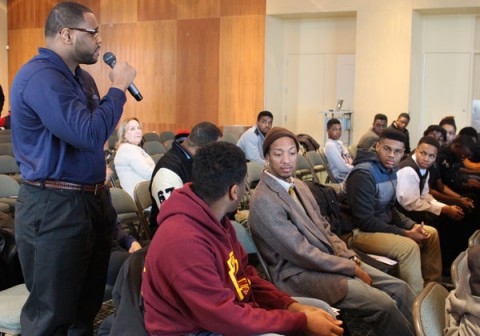 "If you don't know who you are, someone else will define you," presenter and Flint native Blake Odum told attendees. "You've got to preserve what is on the inside of you that sets you apart from everybody else."
The event's keynote speaker was Jeremiah White, who graduated last year from Fisk University and is a program assistant at the Mott Community College Workforce Development Center. Those attending included members of the Kappa Leadership League, Gamma Delta Kudos, and Alpha Esquires, UM-Flint STAR students, and others.
"This is a platform for me to reach back to kids to show them that education is important," said STAR student Joe Austin.
Rhymes plans to continue to motivate young minority students through his non-profit and to further develop educational resources such as scholarships that they can use to help pay for their education.
Replacing dismal statistics for black males that indicate high drop-out rates, increasing incidents of arrests and jail time, and continued low-paying jobs, with stories of college graduation and success is part of the intent of the Institute. "I hope this event will help them look within themselves and redefine themselves because they all are great," he said.
Contact University Communications & Marketing with comments, questions, or story ideas.