MLK Day Speaker Dr. James Chaffers Reminds UM-Flint Students "Why Dreams Matter"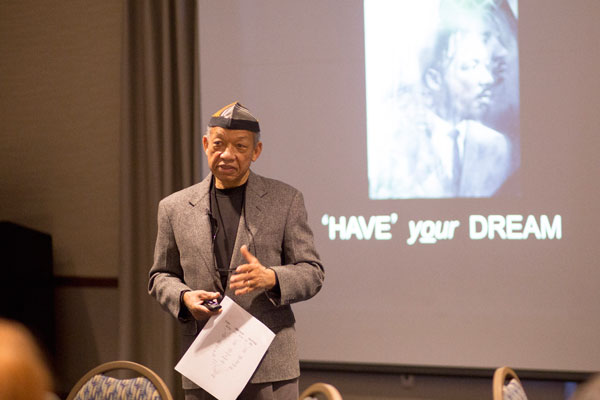 A key contributor in the creation of the Dr. Martin Luther King, Jr. National Memorial in Washington D.C. helped kick off a day of service at the University of Michigan-Flint Monday to honor the work and spirit of the late civil rights activist.
Dr. James Chaffers, Senior Design Juror for the memorial, celebrated the importance of dreams and finding one's calling and purpose in life.
"You are the dreamers and difference makers," Chaffers told the UM-Flint crowd Monday at the opening volunteer breakfast for the MLK Day of Service. "You've always been that way."
He encouraged those at the breakfast not to deny or apologize for what makes them unique individuals, but instead to embrace these qualities.
Chaffers, an emeritus professor of architecture at the University of Michigan, has served as director of the Florence-Tuscany Design Studio in Italy, director of the West African Design Studio in Ghana, and director of the University of Michigan Ph.D. program in architecture.
He was asked in 1997 to serve as senior design juror for the King memorial. The competition on who would design the monument drew more than 900 entries. Chaffers co-developed the competition. The monument, on the U.S. National Mall in Washington D.C., was unveiled in 2011.
Chaffers celebrated King for tapping into his own dreams and purpose, and encouraged the crowd to find their own path too.
"My challenge to you, my reminder, is to have a dream. That is how you'll find your purpose," he said.
He said each person has their own calling. This calling can then contribute to the greater good.
"It's important to find it and keep finding it," he said.
Dr. Dana D. Dyson, an assistant professor of political science, said Chaffer's message left an impact.
"Dr. Chaffers was very refreshing, in terms of renewing our thoughts, in terms of our dreams and having a dream," Dyson said. "I think many people have forgotten to dream. We have gotten so boggled down with doing, we don't take time to contemplate."
Dyson said it's also important to tune into others' aspirations.
"It resonates with us and helps us to think about how we can connect and help others achieve their dreams, and we achieve ours at the same time."
Before Chaffers' presentation, Michigan Governor Rick Synder made an appearance at the event and lauded students and others for volunteering at various UM-Flint service projects around town Monday.
He also thanked the university for helping with the Flint water crisis, including distributing water filters in the fall and ongoing work by those in various fields such as public health and nursing.
Contact University Communications & Marketing with comments, questions, or story ideas.