Service Saturdays Teach Students about Flint and the Value of Volunteering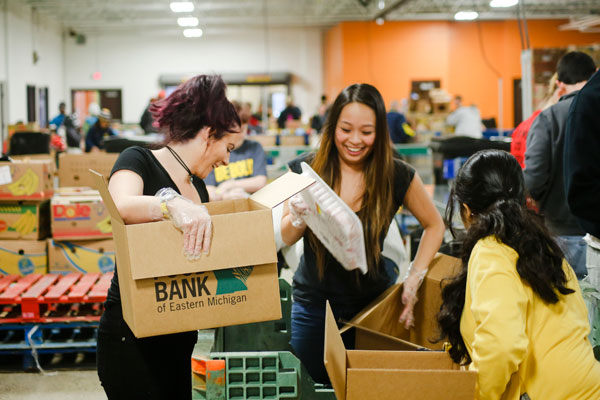 The room hummed with productive energy. Dozens of volunteers, including more than 30 from the University of Michigan-Flint, sorted and inspected food—at the Eastern Michigan Food Bank in Flint—on a recent Saturday morning. They checked for dents on canned goods and tears on bags of food.  They separated pork and beef into separate boxes. They helped the food bank ready goods that get distributed across 22 counties to those in need.
For those from UM-Flint, this was a Service Saturday in action.
Ashlyn Dotson took a break from sorting and watched the scene. Dotson is program chair for Service Saturdays, a UM-Flint University Outreach program that enables students to contribute their time and talent to the broader community. The group, open to any students, meets on select Saturdays, and has contributed to numerous organizations, such as Joy Tabernacle, Carriage Town Ministries, and the North End Soup Kitchen.
"I am excited," Dotson said. "There are a lot of people I have not seen before. It is exciting because our program is growing."
Gary Ashley, a program manager in UM-Flint's University Outreach, said his department formally started Service Saturdays last fall. It follows the spirit and engaged learning approach that are part of Alternative Spring Break and Alternative Summer Break, two Outreach initiatives in which students learn about social issues while contributing to the community.
Service Saturdays allow students to volunteer for a few hours while getting involved beyond campus, said Ashley, who oversees all three service programs.
"There are many students that are looking for ways to get plugged into the community but may not know how to do so or don't have the time to plan such an activity," Ashley said. "So this makes it very easy for anyone to plug into our program, free of charge, and make an impact on our community."
Kimberly Nguyen, a UM-Flint freshman majoring in psychology, has attended several of the events, including  the recent opportunity at the food bank. Nguyen, from Grand Blanc, said it has helped her learn more about Flint.
"You meet a lot of new people. And you get to engage other people," she said. "It just makes me feel good; you are doing this for other people, not just yourself."
Hui Cheng, a UM-Flint freshman from China, volunteered at the food bank, making it her first Service Saturday.
"I'm impressed," she said, adding that she planned on volunteering for more.
"I think it's really good. It feels like we're helping people," she said.
Todd Womack, a social work lecturer at UM-Flint, said Service Saturdays can bolster a student's knowledge base.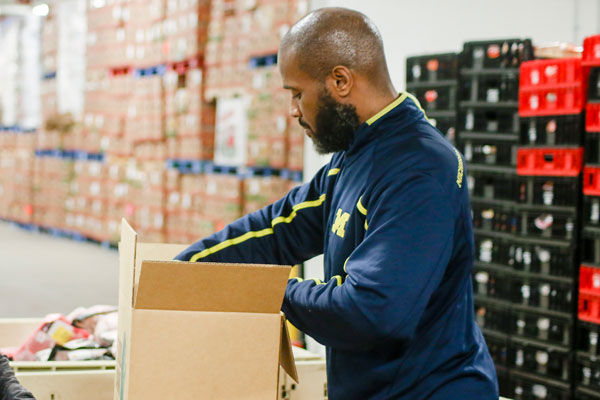 "Learning is always an opportunity that presents itself in these kind of arenas," Womack said. "It is always my mindset to bring the text to life, and this is one way to do it."
Several members of his church, the Central Church of the Nazarene, volunteered at the food bank too, he said, with more plans this year for the church and university to partner at service events.
One benefit of the Service Saturdays is it introduces students to community contributors beyond campus, Womack said.
"We are building community within the context of a broader community. When you talk about building community, it doesn't just happen. It's a process."
Karol Conrad, the volunteer coordinator for the food bank, said UM-Flint frequently sends volunteers to help, including for several days at a time, as part of Alternative Spring Break.  This is crucial to the organization, which is always looking for more volunteers, she said.
"With UM-Flint, we do have a good record with them."
Ashley said the program hopes to expand this year. For example, it will be working with the Joy Tabernacle Church in the Civic Park neighborhood.
"We will be able to work on cleaning up the neighborhood, as well as renovating a house that the church owns," he said.
This year, Service Saturday organizers plan on contributing to an organization at least every second Saturday of every month.
"Having said that, we have the capacity to partner with five community partners on any given Saturday," he said.
Contact University Communications & Marketing with comments, questions, or story ideas.